Have you ever watched your sim level up their baking skill and wished it was that easy in real life? In this series I want to prove to you it can be that easy. With a little practice you too can level up your baking skill and impress your friends.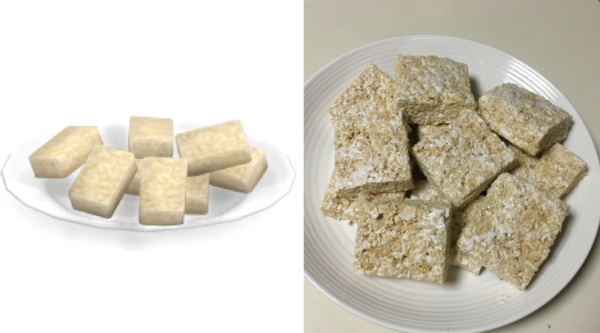 Today we're making cereal marshmallow squares! This is super simple recipe so I'll first walk you through making the classic squares. If you'd like more of a challenge I'll also show you a fun fall themed design. But first, here is the recipe.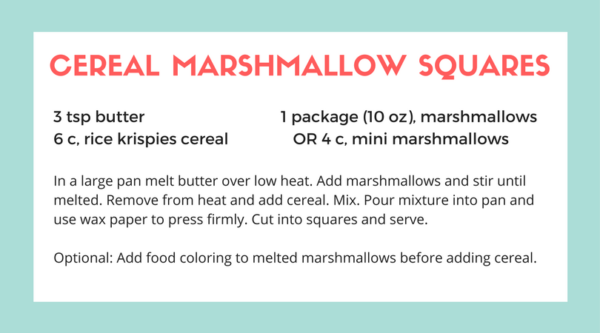 Tip: For easier clean up use a pot large enough to mix the melted marshmallows and cereal together. I like to use a large stock pot and double the recipe for more yummy goodness. 
1. In a large pot, melt 3 tsp of butter over medium low heat. Once the butter has melted add 1 package (10 oz) of marshmallows, or 4 cups of mini marshmallows, to the pot.
2. Next, stir the marshmallows until they are evenly coated in butter. Continue to stir as the marshmallows melt. You will know when the mixture is completely melted when you can no longer see the shapes of individual marshmallows.

3. Remove the pot from the heat and add 6 cups of toasted rice cereal to the pot. Mix until the cereal is evenly coated in the marshmallow fluff. It should start to form a sticky ball with very little sticking to the sides of the pot.
Tip: I recommend using a wooden spoon. It will be much easier to stir the mixture than with a flexible tip spatula. 
4. Coat a large rectangular baking pan with cooking spray or line with a large piece of parchment or wax paper. Pour mixture into pan and use a separate piece of parchment or wax paper to press flat.
5. Allow to cool then cut into squares with a knife. Enjoy!

Candy Corn Shaped Treats 
You can add food coloring to the fluff for some fun and variety. I thought it would be fun to create candy corn shaped treats. The process is simple in concept but was more difficult than I expected. If you like a good challenge then this is for you.
1. Follow the instructions about to melt the butter and marshmallows. After you remove the fluff from heat, divide the marshmallow fluff between 3 bowls. You don't want an even amount in each bowl. Think of it as small, medium and large amount.
2. Leave the small bowl uncolored for the white part of the candy corn. Using food coloring, color the fluff in the medium bowl yellow. Finally, color the fluff in the large bowl orange.
3. Next, distribute the 6 cups of toasted rice cereal into a small, medium, and large amounts. Add the cereal to their respective sized bowls and mix each.
4. Coat a circular cake pan with cooking spray to prevent sticking. Place the white mixture from the small bowl in the center in a ball. Next, take the yellow mixture and make a ring around the white center. Then, take the orange mixture and make a ring around the outside.

5. Using a piece of wax or parchment paper, press flat. It's okay if your rings are slightly uneven looking but press the mixture into the corners so the treats form the circular shape of the pan.
6. Allow to cool for a few minutes. Then, flip the cake pan upside down onto a cutting mat, allowing the treats to slide out. With a sharp knife cut the treats like a pizza to create slices.
7. Finally, transfer the slices to a plate or serving tray. Ta Da! Candy Corn!
Thank you for reading! I hope you enjoyed this post, if you missed the previous Let's Bake post you can find that here: Let's Bake Oatmeal Cookies. I'll be back next Sunday with another Let's Bake post. Happy Baking!