Raise your hand if you've seen the trailer for The Sims 4 Jungle Adventure Game Pack more times than you'd like to admit! ✋✋✋✋✋✋
Guys, this may be the best GP yet! I am really excited about exploring Selvadorada, but even happier to be able to build with the new items. Being somewhat of a perfectionist in my game (which is an euphemism for "control freak"), I know I will have a lot of fun customizing each and every aspect of the new world.
Since we're still a few days away from its release, I will use some of my free time to build a few lots in advance, and I'm sure I'm not the only one doing that. I decided to put together a few ideas that will help us make rooms and entire lots to fit nicely with the new content from the pack. From what I have studied and experienced myself by living in Brazil (I was in fact hiking through a tropical forest just last week!), these tips will help!
Grab your hiking gear and all your supplies, cause this will be a long journey through Latin culture, geography, and obviously a whole lot of inspiration.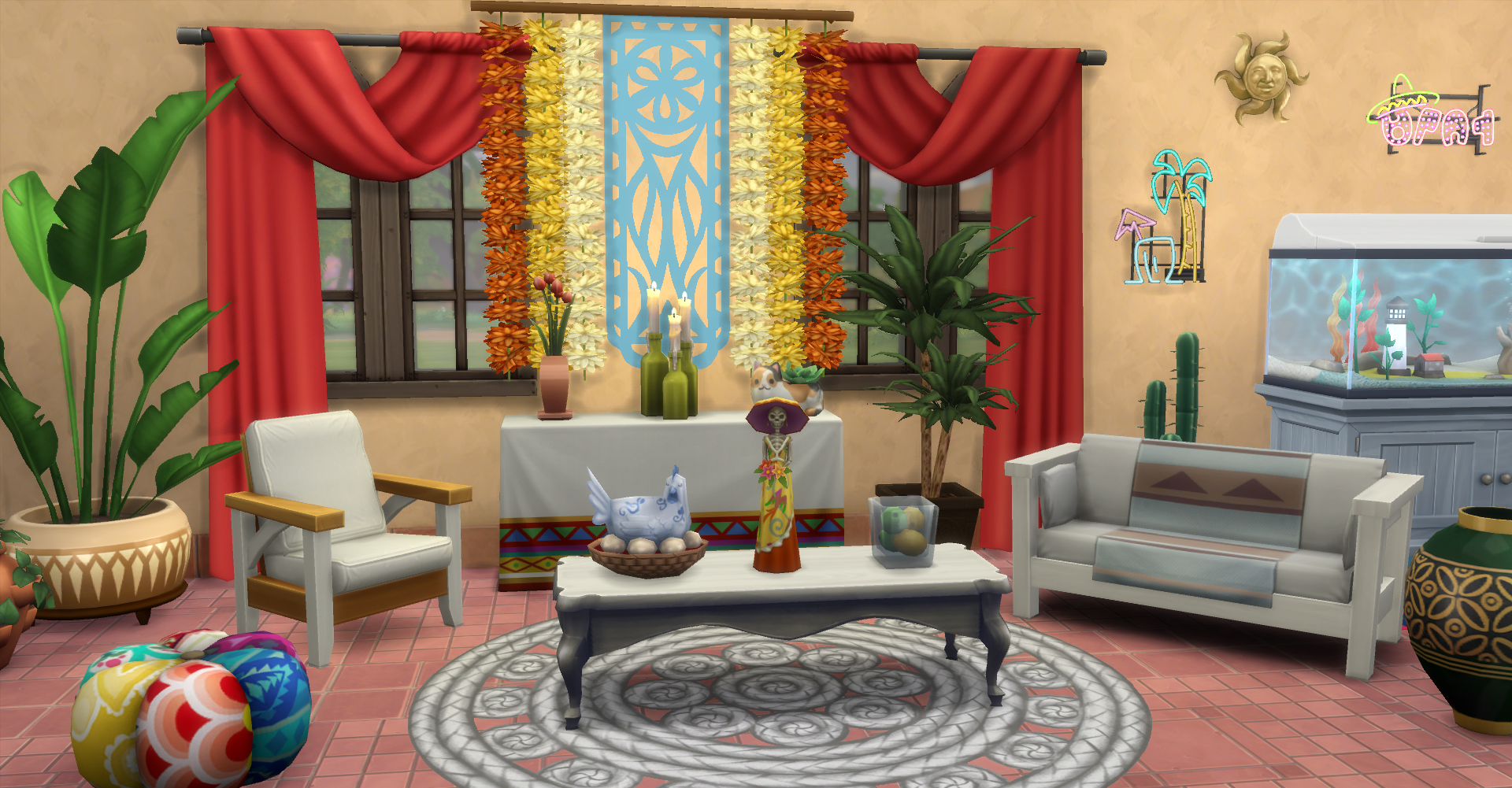 Just like how The Sims team mixed up different European cultures to make Windenburg, they gathered various aspects of Latin American culture to make Selvadorada. Especially the jungles. The areas were colonized by different European nations centuries ago, they brought Africans with them as slaves, so all these different backgrounds mixed with the native people of the land, formed what today is a naturally diverse culture.
Keep this in mind as it will help you choose objects and styles that will feel right in the new world. Some things will look like they came straight from 16th century Europe, while others will present geometrical patterns and repetitions that will look tribal or primitive, and you should not be afraid to put them all together (see image above for reference). I am positive that packs like Movie Hangout and Laundry Day are the ones I will use most while building in Selvadorada.
Now one set of objects you can really rely on is the Day of the Dead set (Día de los Muertos) that came as a base game update back in 2016. Not only is Mexican culture part of what is considered Latin, the content is a lot like the items we're getting in Jungle Adenture. Design, colors…the works.
In terms of materials, I recommend using more wood, stone or even vine, but one thing all these cultures have in common is the extensive use of clay. You'll find ceramics not only in vases and statues, but also on floor, walls and even roof tiles. It all blends well!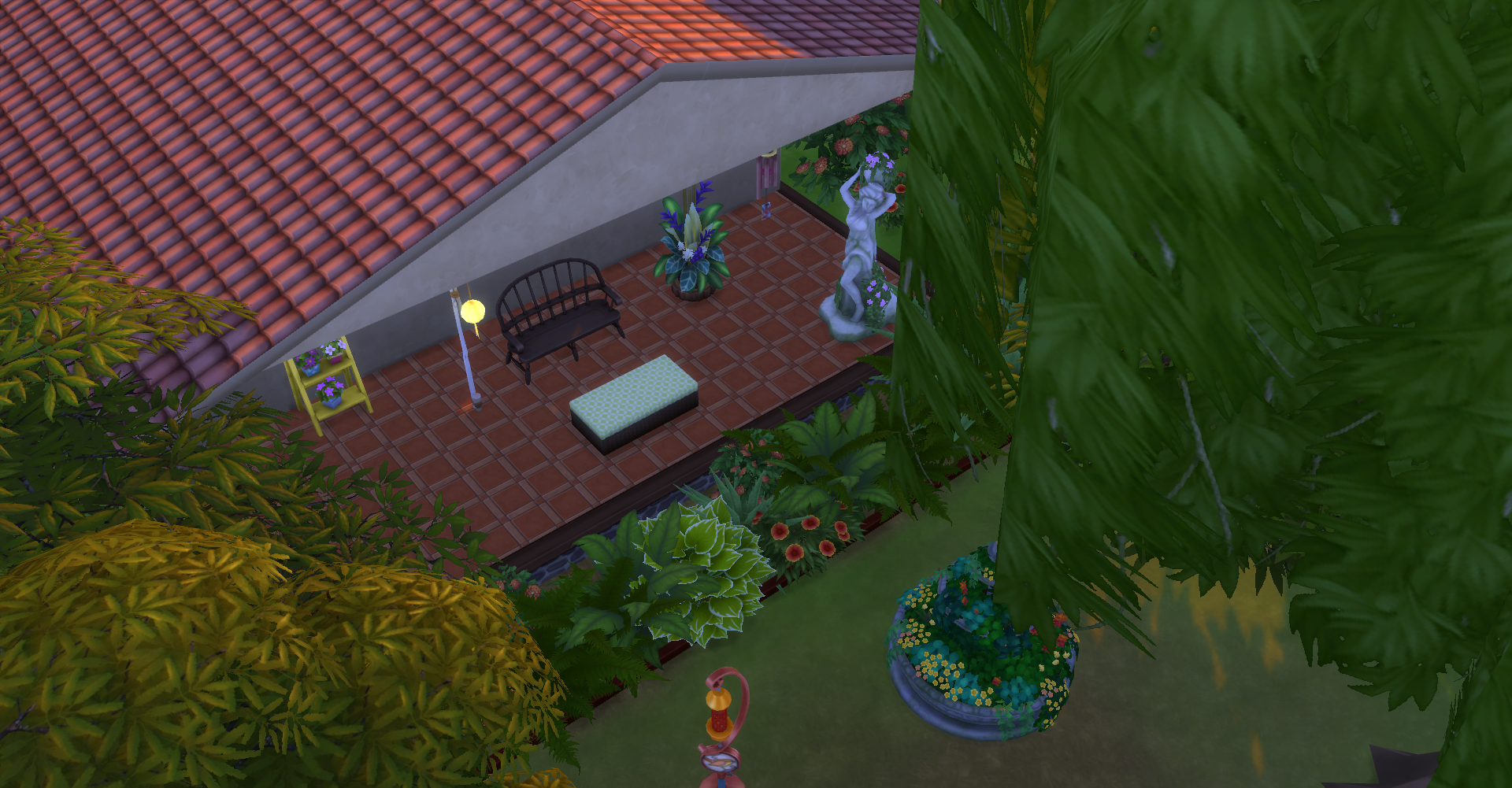 Now that we've got the inside of the builds covered, let's talk about the outer areas. When I want to build a tropical garden in The Sims, the moveobjects cheat is always my best friend.
See, in tropical and subtropical weathers, because of the amount of rain (trust me, it rains A LOT here – they don't call it the rainforest for nothing), the vegetation is more than lush. You'll see leaves on tops of leaves and moss growing everywhere. It's even common to see plants growing on other trees like parasites. This is why I try to build green on green, to create a very organic looking design by the juxtaposition of plants. Trying to constrain this in a specific area helps give it some sense of order, which I think looks really good.
So now it's time to gather all this information and create a few lots that will look great in Selvadorada, using content from previous packs. If you have Outdoor Retreat, turn one of the lots into a tropical campsite with tents among plants. I'll be turning one of the lots into a park with loads of activities for my younger sims.
No matter what you decide to build or how you're going to decorate your homes and venues, I know the new Game Pack will give you plenty of ways to create those exotic places you one day want to visit. Do you already have ideas on what you're going to do once the pack comes out? Let us know in the comments below!