Since the release of The Sims 4 Seasons trailer, players have questioned why there is a lack of depth in the snow that accumulates on the ground, and atop the roofs of homes.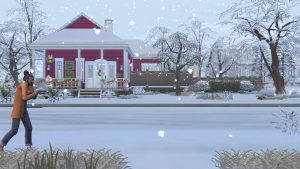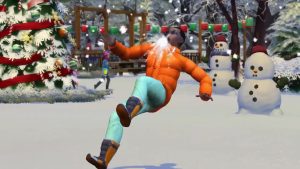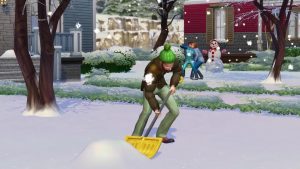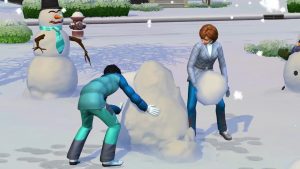 It's clear that throughout the trailer there aren't any signs of snow depth seen in previous games, and Sims are seen walking above the snow covered ground at all times. This called to question whether or not snow is just a simple terrain paint.
So, I woke up again, hi. Seasons still looks amazing, but one thing I noticed is snow being really flat. I don't know, it doesn't look like Sims shoes sink into the snow, it's just something I noticed.

— Rudy (@D0mainG0at) May 25, 2018
Are not you going to talk about the controversy of the snow depth in The Sims 4 Seasons?

— Racody 🐦 (@RacodyZ) May 25, 2018
Bad News About The Sims 4 Seasons:

1. Unlike The Sims 2 and The Sims 3, there is no accumulation of snow. The floor just turns whitish.

2. Snow and rain are apparently just screen effects like in The Sims 2.

3. Windows do not get foggy during winter like The Sims 3.

— SimsTime (@SimsTimeOficial) May 25, 2018
@SimGuruGrant @SimGuruGeorge @SimGuruEmory The only complaint I have with #TS4Seasons … I wish you could have pushed the release of the pack back a few months to make snow with actual depth. 😕 pic.twitter.com/9Fvp2hkSd3

— HazzaPlumbob (@HazzaPlumbob) May 25, 2018
All I see is positivity surrounding Seasons, but what about the possible negatives like how there seems to be no snow depth or gradual leaf decay.. What do you think @Iron_Cgull ?

— Passionate Simmer (@TheSims4Passion) May 25, 2018
@SimGuruGrant In The sims 4 Seasons We will have more accumulation of snow on flat surfaces? Because the floor and the roofs looks like they were painted white. pic.twitter.com/OYc9mnfmRL

— Evelyn (@evelinsilva99) May 25, 2018
With Gurus staying tight-lipped on info for the time being, SimGuruKate has let players know the team has seen the comments and feedback about snow depth. She took to Twitter with what she was able to share at this time.
I can not address this at this time. But I do see you and hear you (and the rest of the Community). If I am able to address it, I assure you I will.

— Kate🌷☀️🍂☃️ (@SimGuruKate) May 25, 2018
For those asking about the snow. I promise I've passed the questions and comments on (I do know this isn't exactly what you want to hear but is what I can offer right now). And remember the trailer and screenshots only show a small part of everything. https://t.co/DfQq1PSt8l

— Kate🌷☀️🍂☃️ (@SimGuruKate) May 25, 2018
Players have assumed that a lack of snow depth is a "trade off" for something else the game includes, so we'll have to wait and see whether or not snow accumulation is absent completely. What are your thoughts on this? Does this make a difference in your game?