As always, without official announcements by EA regarding the next Sims 4 Expansion Pack and release date, consider this to be an unverified rumor until proven otherwise. 
UPDATE: Unfortunately this was a case of someone using their photoshop skills, as it has now been confirmed to be a duplicate of a photo already existing on Reddit. As you can see, the time stamp, notification icons, and reflection are the same. The photo used for the Sims 4 rumor was tilted to make it appear as if it was a new photo.
What to do with items like this? Also tried defecting but it says SBT. Help. from r/Target
It appears that a Target employee has found information on the next Sims 4 expansion pack in Target's inventory manager. Twitter user FCowplant posted the following image on Twitter showing off an internal listing for "Sims 4 Ep 09 Country Livin".
UPDATE: FCowplant's Twitter account appears to be suspended/deleted, so here is a photo of the image shared earlier today.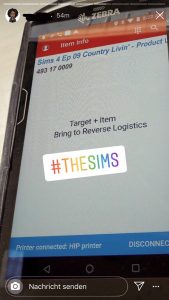 Is this legit you guys? pic.twitter.com/4mLBBgCUKX

— FreezerBunnyCowplant (@FCowplant) May 4, 2020
There isn't a street date listed, but there seems to be a DCPI number already assigned to the game. This is not the first time a Target employee has leaked information from Target's inventory manager either. Back on September 2019, The Sims 4 Discover University was leaked the same way. EA is expected to make announcements at EA Play on June 11th, so the only thing we can do is wait to see what gets announced next!