SimGuruGeorge took to Twitter this week to randomly tweet out some possible future hints at upcoming content for The Sims 4. One of the first things he tweeted out was a photos of the Future Cube object in the game. This buy mode object has a special "Ask about the Future" interaction for Sims, and provides random hints in the form of notifications.
— SimGuruGeorge (@SimGuruGeorge) July 28, 2020
The future cube has given out hints in the past, confirming various content from candles to knitting. This time players noticed that two new "hints" were added to the future cube: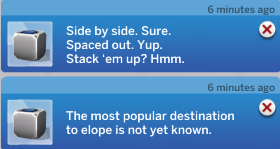 In addition to this, SimGuruGeorge also tweeted out a photo of the "Porc du Jour" object sitting on a counter. The object description reads as follows:
"Enlist the services of a charming personal chef. Jolly, pink and generously proportioned, this friendly companion has an appetite for finer morsels. Indulge him by writing on his ready little slab. Then wipe it clean and start afresh, for another day full of delights."
— SimGuruGeorge (@SimGuruGeorge) July 30, 2020
[REDACTED]

— YarnGuruFrost🧶 (@SimGuruFrost) July 31, 2020
Players have already started speculating what all this might mean, and they're hoping to see romantic destinations, wedding packs, farming, and more. If you mix in today's official leak, there's plenty to think about. What do you make this? Let us know down below!