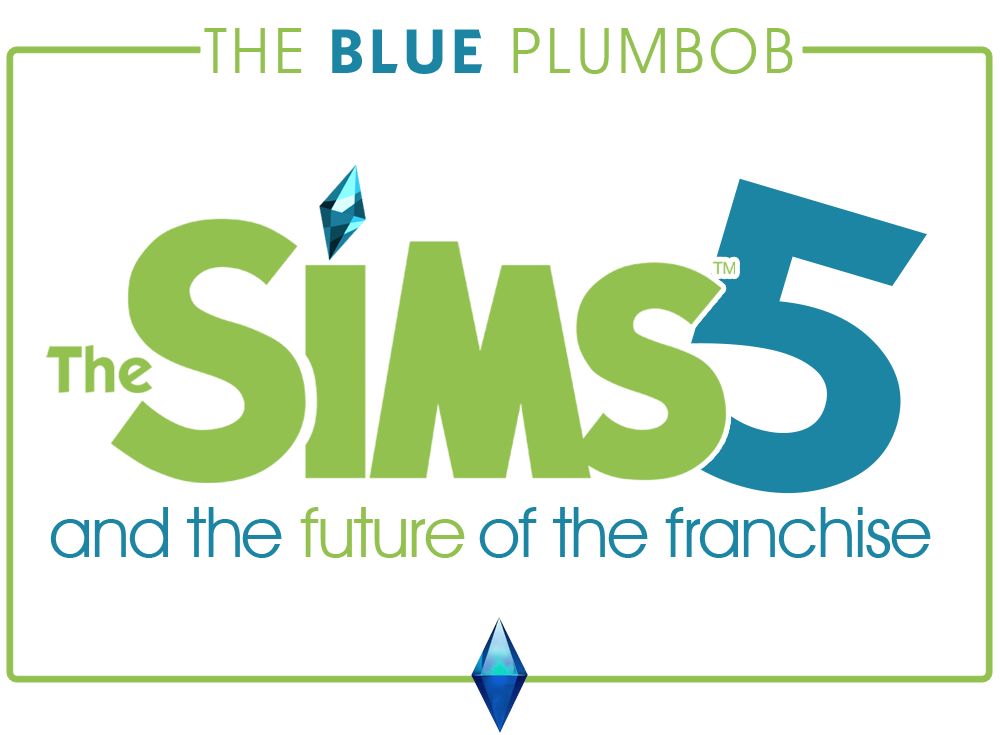 Welcome back to The Blue Plumbob, an original series of posts here on SimsVIP giving an in-depth look at various parts of The Sims franchise.
Introduction
Today's article focuses on The Sims 5 and tidbits we've heard about its development thus far. We'll also be looking at the current infrastructure of Maxis as a studio, as well as the future of The Sims franchise as a whole.
The "Maxis" Label
Before we take a close look at some of the EA job postings for future Sims games, we want to clarify what exactly it means when Maxis is developing a new game. You probably know Maxis as the developer of The Sims franchise, but over the past few years, the label has become more than that.
EA's old "EA Play" casual games label was folded into Maxis. This means any sites like Pogo.com or licensed games with companies like Hasbro are now overseen by Maxis.
Given this knowledge, it's important to note that a new job listing at a Maxis studio does not necessarily mean a new Sims game. If it's being developed at EA's Redwood Shores offices, it's likely to be for The Sims. If the job listing is for elsewhere, mileage may vary, but if it specifically mentions The Sims, then you can be sure.
Mobile Gaming
In 2015, after the closure of its flagship Emeryville studio, Maxis was further solidified under EA's mobile gaming umbrella. At the time, EA clarified that Maxis would still be developing titles for the PC.
In 2018, after a round of Maxis layoffs, an anonymous Reddit poster made comments about the status of The Sims franchise claiming to be a former SimGuru. While SimsVIP cannot verify their claims 100%, the information they provided matches up with comments made by SimGurus months after the person wrote their posts.
This poster in particular mentioned the following:
I was a SimGuru for many years. The Sims as a franchise has transitioned over to the "casual" side of EA over the years and is now under their Mobile umbrella. EA sees most casual players being on mobile, thus any Sims related projects going forward would be for that device no matter what. So yeah…
Take these comments with a grain of salt, as they were made several years ago. The Sims 4 on PC has still been the franchise's most lucrative recent release. It makes sense for them to continue down that same path with at least some future Sims games. However, it's also reasonable to expect more mobile Sims games than the franchise has previously released.
Online & Multiplayer
During an earnings call in January 2020, EA CEO Andrew Wilson confirmed that all future Sims games would have online capabilities, particularly "social interaction and competition."
And so as Maxis continues to think about The Sims for a new generation across platforms in a cloud-enabled world, you should imagine that while we will always stay true to our inspiration, escape, creation, self-improvement motivation that this notion of social interaction and competition like the kind of things that were actually present in The Sims FreePlay — sorry, in The Sims online many, many years ago, that they will start to become part of the ongoing Sims experience in the years to come. We're very excited.
As reported in our last Blue Plumbob post, The Sims 4 was developed to be an online multiplayer game but was changed at the last minute due to community backlash to SimCity. The game ultimately suffered from a shift back to single-player so late in its development.
Unfortunately, it seems that this has not affected EA's overall mandate of online multiplayer games. Expect the next iteration in the franchise (whether that be The Sims 5 or another game) to heavily feature online gameplay.
A New Studio
In 2020, EA launched Maxis Texas, a new studio in Austin, TX. Job listings, such as for art director, revealed this information.
Maxis Texas, EA's newest Maxis studio, is looking for a visionary Art Director to lead our art team in the creation of a new, unannounced title. We're looking for candidates with a unique vision and the ability to promote that vision, providing stunning visuals at the highest levels of execution.
The job listing noted that it would be a bonus if the applicant had experience with live service or mobile games.
Maxis Texas may be working on a variety of different projects – it is too early to tell. The studio could be working on a completely new intellectual property unrelated to The Sims.
Additionally, the studio could also be used as support for the main Redwood team. During The Sims 3's life cycle, Maxis in Redwood was supported by EA Salt Lake, which developed The Sims Medieval and many Sims 3 expansion packs including Supernatural and University Life. EA Salt Lake closed in early 2014, leaving Maxis in Redwood Shores to develop new content for The Sims 4 independently.
SimsVIP will be sure to report on any further developments coming out of Maxis Texas. You can check out the EA Austin facilities where Maxis Texas will be based at EA.com.
The Sims 5
And here we are, the "meat and potatoes" of this post. In this section, we'll outline the various job postings and rumblings from Maxis at Redwood Shores that point to a new Sims game being in development.
2018
We're fairly certain that Maxis in Redwood started development on a new Sims title in 2018. We reported on job postings for a new "AAA title" and an "exciting New Game in the Sims Franchise." These were posted in September and October of 2018 respectively. Check out those posts for more info. The gist is that the game is for PC and that it will feature graphics that are "in a realistic style to a high level of aesthetic quality."
2019
In April 2019, Grant Rodiek stepped down as senior producer of The Sims 4 to work on other projects at Maxis. This mimics exactly what happened in November 2010. Grant stepped down as lead producer of The Sims 3 to work on what was then known as an "unannounced project." It of course was later revealed to be The Sims 4.
2020
As posted above, Maxis Texas is founded, and EA CEO Andrew Wilson confirms that future Sims games will feature online capabilities.
2021
In late January 2021, EA put out job applications for more positions at EA Redwood Shores that seem to be for a new Sims game. You can check out the full list here. It can be easily discerned that these applications are for The Sims 5 team. All other applications for Maxis at Redwood denote that they're for The Sims 4.
We'll outline the most notable tidbits from these postings below:
As a Senior Character Artist, you would work closely with the Art Director and Technical Leads to define visual standards and technical specifications of characters for the project.

You would also actively participate in RnD of the asset creation methods and pipelines designed to add new design-driven features unique for the project.
It seems like this new Sims game is far along enough that they're prototyping Create-A-Sim.
As outlined in our first Blue Plumbob post, it is typical to make prototypes of Sims that aren't customizable before breaking them up into interchangeable parts for CAS. The fact that they're hiring a senior artist specifically for CAS makes it sound like Maxis has already nailed the "look" of the Sims for this new game.
You will work with engineering, art, design, and quality verification groups to prototype and ship different features that expand the featureset of Sims games. Most of the work is expected to be done in Unreal Engine, both in C++ and blueprints.
This confirms that, at least for now, the newest Sims game is being prototyped in the Unreal engine. The Sims 4 went through at least two different engines before release. It's possible that The Sims 5 will not run on Unreal Engine when finally released.
For more about Unreal Engine, check out its Wikipedia page.
– A good understanding of how content is built/implemented for creative games. Hands on implementation or modding experience is a plus.
– Excited by and participating in new business/distribution models like Subscription services and cross platform games.
– Knowledge in popular Sims Community mods and Custom Content would be ideal.
– Bonus includes familiarity with game streaming (ex: Twitch, Mixer)
It looks like The Sims 5 will be developed with custom content in mind, and perhaps the team is looking at what mods are popular now, perhaps to implement similar features into the game directly?
Additionally, this mentions the potential for the game to have a subscription-based model, which was something that was scrapped for The Sims 4 very late in development. We'll detail more about The Sims 4's scrapped subscription and microtransaction plans in a future Blue Plumbob post.
The listing also notes that the game would be cross-platform. While still being developed as a multiplayer game, The Sims 4 was designed to have very low graphical strain so it could be cross-platform, perhaps even allowing it to run on mobile devices.
Cross-platform could mean that The Sims 5 would run on mobile devices too, but it may just be referring to the ability to be played on both console and PC. Only time will tell.
Studio Denial
Ever since The Sims 4 was first released, The Sims Team has continually denied that The Sims 5 is in development. Prior to 2018, these claims were likely true.
It's worth noting that development on The Sims 5 started much later when compared to work on previous base games. The Sims 4 started development in April 2010, under a year after the release of The Sims 3. If our running theory that development began in 2018 is true, that means that The Sims 5 didn't begin development until 4 years after The Sims 4 was released.
You'll likely continue to see further denial by EA officials that The Sims 5 is in the works. It is standard game development procedure. A game is not announced until toward the end of its production cycle. It isn't a good idea to detract from the current base game that has tons of new content still coming.
When Will The Sims 5 Come Out?
We don't have any concrete information about when The Sims 5 will be released, but we can make educated guesses based on the development cycles for previous base games.
The Sims 3: 2004-2009
The Sims 4: 2010-2014
Both of these games took roughly five years before they were ready to be released. Based on that timetable, The Sims 5 would be in development from 2018 to 2023. Obviously, this can change depending on a variety of factors.
Too Long; Didn't Read (TL;DR)
Several years ago, Maxis was lumped in with EA's mobile gaming division, so expect a decent focus of future Sims games to be on mobile experiences.
The Sims 5 will likely contain multiplayer, a shared online neighborhood, and other social features. The Sims 4 was developed in this vein, but the multiplayer content was scrapped at the 11th hour.
Cross-platform gaming and monthly subscriptions are likely. The team is focused on allowing the creation of custom content and is studying popular mods made by the community.
The Sims 5 has started development later than any base game before it, and as such, we shouldn't expect to hear any official news about it for a few more years. Theorized release in 2023 (give or take a year.)
Where Do We Go From Here?
It's a relief to see that there is indeed a next-generation Sims game in development. For several years in The Sims 4's life cycle, it seemed like there were no plans to push the franchise beyond new packs.
On the negative, the return to developing The Sims as an online-only franchise is concerning. The idea of multiplayer simming in itself isn't bad, but to make the flagship title focused on that feature seems like a risky move. SimCity 2013 suffered for it, as did The Sims 4 indirectly. Pushing this initiative again seems like repeating old mistakes.
But it isn't all doom-and-gloom. The focus on making the game custom content friendly is a massive positive. And it seems like The Sims Team is taking a look at top mods in the community for inspiration. That can only lead to good things.
Thanks for reading today's edition of The Blue Plumbob. We'll have more posts like this coming soon, this time taking another look at canceled Sims 4 content. And as always, as soon as there's any more news about The Sims 5, we'll be sure to report about it here on SimsVIP.
Cheers!