Greeting Cards Section Added to Exchange Studios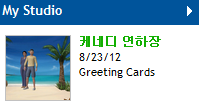 Greeting Cards made their first appearance on a beta tester's my page on August 23rd. After today's Sims 3 maintenance, a Greeting Cards section has been added to our Studios on TheSims3.com.




There has been no information on how the greetings cards work, but hopefully the next few weeks will shed some light on this new feature. Thank you Cat for passing along the info!
Leave a Reply