This March, along with Sims 3 Showtime's release, your Sims3.com "My Pages" will be completely redesigned. One of the biggest concerns for most players, is to make sure none of their personal information is available to the general public.
The new My Page designs may include your Origin ID's (see Origin Symbol in the photo below). Origin ID's are completely separate from Sims3.com usernames, and it would be in your best interest to make sure those Origin ID's are not real names, or any other name that would personally identify you.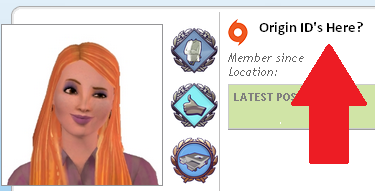 A few months back the Sims team added Origin ID's to our pages without warning, and after backlash by users, they removed them. There is no telling whether or not EA will decide to publicly display our ID's once again, so just make sure you are aware.
If your Origin ID does not personally identify you and you are happy with it, great. There are probably many of you though, who do not want your current Origin ID displayed. Origin allows users to change their Origin ID's, so log into Origin, and click here to change it. Just a precautionary step to take before the My Page changes. 🙂