For those of you who want to get a better look at Lunar Lakes, this is the post for you! Hopefully this information will help you decide on whether or not to purchase this world. I personally love the theme and looks of this town, but there is one thing missing… Aliens!
Overall, the world offers a fun looking, new environment for your Sims, but is it worth the 2,200 Simpoints?
Create a Sim
 ——————————————————————————————————————————————
Build/Buy/Edit Town Mode
The "Crystals" listed as objects, are hidden. They are not readily available for purchase within the game, nor are they in the world editor. The new rabbit portal holes, Spaceship & Pavilion Dome can all be found in the Community Objects via Edit Town. The new Mailbox, is also unavailable for purchase.
 ——————————————————————————————————————————————
 

Tree of Prosperity

 
The Tree of Prosperity is the exclusive Premium Content that is includes with Lunar Lakes. This tree offers Sims a way to gain new skills and even level up current skills. Sims can also gain any skills from expansion packs as well. (Mixology, Martial Arts etc)
Sims can Admire and Imbue the Tree. Sims can Imbue the "Fruit of Harvest", "Fruit of Soul", "Fruit of Mind" and "Fruit of Body". Once the fruit has grown, your Sim can pick the fruit and eat it. If you choose not to Imbue the tree, it will automatically grow a random fruit for you to pick.
Once your Sim eats a fruit from this tree, the tree will return to it's original state.
❗ Note that when your Sims Imbue the tree, they will lose energy. If your Sim is not well rested, they cannot Imbue the Tree of Prosperity.
 ——————————————————————————————————————————————
 Bella Goth's Return!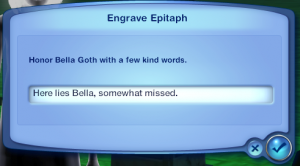 The disappearance of Bella Goth is no longer a mystery. Ok fine, maybe it is, but Bella makes a comeback as a deceased Sim in Lunar Lakes! You can find her Tombstone in the Cemetery, and just for fun, I brought her back to life.
 ——————————————————————————————————————————————
 

Lunar Lakes Screenshots