Yes, this is fur-real! In celebration of the SimsVIP 4.0 design release, we felt it only fitting that we pay tribute to our favorite cat lady. Our own Alexis, founder of SimsVIP, has a claw-ful love to all things fan-cat-stic! We are litter-ally about to show you some paw-some treats for Sims and builds of the feline purr-suasion.
❗ Please note that installing 3rd party content may cause problems with your game. It is a good idea to properly research the use of mods and custom content before putting them into your game.

❗ While EA unofficially supports the modding community, they will not be held liable should any 3rd party content damage your PC or game. 

❗ The content in this article is for information purposes only. SimsVIP does not assume any liability should 3rd party content damage your PC or game.

❗ Always remember to remove mods and custom content before updating your game.
---
1. Cat Face Bowknot Sheer Dress by JS Sims
By now, you should know that we always start at our lovely Create A Sim! What better way to show your love and appreciation for felines everywhere than by dressing up the part? This sheer topped dress has four colors: grey, blue, white, and black. It is placed under the Full Outfit category with a custom thumbnail and fits females from Teen to older. JS Sims has even made sure to link his identical mesh for use in The Sims 3 as well! Now that's what we call tail-ent!

Available for download at Blogspot.



---
2. Cat Stockings by Lavoieri
Have you ever felt a cat clawing up your legs for attention? Lavoieri has created these cute little stockings to hide all of them! There are three different styles, each style including a swatch for transparency and without, making a total of six stockings together. Your Sims will be able to find these purr-fect stockings in the Socks section for any Teen female or older.

Available for download at The Sims Resource.




---
3. Cats Necklace by One Billion Pixels
What a simple way to carry your Sim's favorite furry companion around with them! One Billion Pixels knows just what it takes to add that finishing touch to a fully fledged cat lady. Categorized and easy to find in the necklace category, your Sim has a total choice of eight unique looking felines.

Available for download at Blogspot.



---
4. Cats Earring by One Billion Pixels
These are the sheer epitome of cuteness! Two little kittens just hanging out with their lovely lady Sim. These earrings are a new mesh with a black cat and white cat, and they can be found in the Earring category with their own custom thumbnail. They are available for all female Teen to Elder age groups.

Available for download at Blogspot.



---
5. Hyperdimension Neptunia Victory Cat & Rabbit by Kiru
If your Sim cannot have a living cat of their own, why not take get your paws on these acessories! These were originally created as a mesh conversion from another game by DominationKid on his blog. Kiru was then inspired to create not only the accessories for them but to add in-game poses that will allow your Sim to cuddle the plushies. Time for screenshots! Both the plushies and the poses are unisex for Teens and older.

Available for download at Tumblr.




---
6. Unisex Cat Ears and Cat Tail by NotEgain
Why stop at just accessorizing? Your Sims can become a cat themselves with a variety of ears and tails! The download includes tails that face upwards and downward facing tails that look exactly similar except that one moves with the Sim's body while the other stays in place. It all depends on your preferences! Or, if you are so inclined, your Sim could choose to only sprout the ears or only a tail which both come in nineteen available colors. Think of all the paws-abilities!

Available for download at Tumblr.





---
7. Axent Wear Headphones by One Billion Pixels
Now this is one of our purr-sonal favorites! If your Sim just isn't into the whole sprouting ears and a tail, then maybe this hi-tech and savvy alternative is for them! Yet another gem by One Billion Pixels to be proud of, the Axent Wear Headphones are indeed a new mesh created in the likeness of the real life version of the headphones. First it came out with only four color options, but since then OBP has added six more recolors to make the total of ten! They can all be found under the Earring category and are noticeable in the thumbnail by their large earpiece. Perfect for when your Sim won't stop chasing the mouse on the computer too!

Available for download at Blogspot!





---
8. 34 Cat-Themed Paintings by Kittysaurus
Decorate your walls with an overwhelming thirty-four precious and purr-fect paintings that vary from soft and adorable to sleek and modern art. Each of the four sets of paintings comes with a thumbnail in the Build/Buy catalog at a reasonable price.

Available for download at Tumblr!




---
9. Mashmallow Cat and Hot Chocolate by Lolineko
We just couldn't stop mewing over this adorable combo! The purr-fect decoration for your tea time or chilly days, your cat lady Sim can rest in comfort with a sweet kitty treat floating in her hot chocolate! With two different designs, there are three colors each: black, pink, and white. Both are found conveniently placed in the Clutter category of the Build/Buy catelog.

Available for download at Tumblr.



---
10. Kitty Deco by Blackle
What would a crazy cat lady with a crazy cat house be without some amazing crazy cats to litter the lot? These little deco kitties will have your Sims hiss-terical! They are found in the plant category of the Build/Buy decorations and come in eight different colors that will be sure to turn your home into a pouncing cat-astrophe!

Available for download at Tistory.



---
There is a lot of love in the heart of a pet and their owner. Dress your Sim up as the cat's meow or just litter your house with decorations of feline fun! Whatever you paw-fer for your kitty-loving Sims, any icon of an old fur-miliar companion will have their hearts mewling for more. And even if you'd rather not, consider these treats a consolation prize for having survived these cat-astrophic and paws-itively claw-ful puns!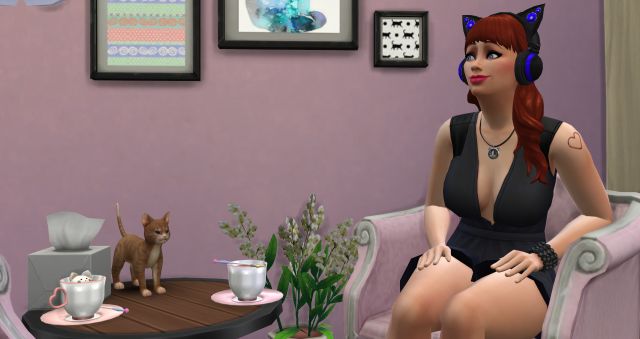 All models can be found on The Sims 4 Gallery!
– Pinto by anaritarafael
– Crazy Cat Girl NoCC by YJB19299
Do you have an idea for a Custom Content Showcase, questions, and/or Sims to volunteer?
Contact me: [email protected]