Hail and well met! We bid ye, come hither all storytellers of old and new. Sit by the fire, fill ye flagon, eat, and be merry! Verily, we have brought plenty of content for thy pleasure! Look upon these and have naught but a weary mind to resist such additions to ye video game!
❗ Please note that installing 3rd party content may cause problems with your game. It is a good idea to properly research the use of mods and custom content before putting them into your game.

❗ While EA unofficially supports the modding community, they will not be held liable should any 3rd party content damage your PC or game. 

❗ The content in this article is for information purposes only. SimsVIP does not assume any liability should 3rd party content damage your PC or game.

❗ Always remember to remove mods and custom content before updating your game.
---
1. Dresses and Knight's Outfit by Kiara Zurk
For any lord and lady, it is expected of them to dress in proper fashion! Kiara has not only uploaded medieval styles for all ages, but she has gone above and beyond with a large supply on her blog! More than we could even showcase today!

Available for download at BlogSpot!

Girls's Dress | Vampire Dress | Medieval Boots | Knight's Outfit & Helmet






---
2. Dirty Skin and Peasant Dresses by Sims4Nexus
Perhaps you just don't want your Sims to be pretty and proper lords and ladies. After all, someone has to be the scullery maid! Dress up your dirty peasants in filth with a large amount of variation for the hands, face, feet, and all over with this original content from the Sims4Nexus.

Available for download at Sims4Nexus!

Upper Body Filth | Bare Feet Filth | Peasant Dress





---
3. Furniture and Clothes by Mammut
We can't forget the boys! These tunics and tights are a wonderful mix and match combination that will allow your Sim children to play at being a Prince and the Pauper. To match the scratchy fabric of medieval times, Mammut has also created beds with blankets of similar design, as well as a wood endtable to decorate the inside of the chambers.

Available for download at Simszoo!

Double Bed | Single Bed | Table | Boy's Outfit & Tights





---
4. Medieval Walls by Ineliz
This set really delves into the texture of the medieval period walls. With wooden beams and old fashioned masonry, this wall set comes with eight total panels that can be mixed and matched to create a style of home fit for taverns and homes. All of the panels resize according to the height of the wall as well! What a great foundation for your Medieval build creations!

Available for download on The Sims Resource!




---
5. Medieval Windows Recolors by HistoricalSimsLife
This recolor of an EA mesh in The Sims 4 is perfect for decorating the walls of your medieval themed build! There are thirty two recolors created with a custom wood frame in the first download on the page, then another version that includes the maxis colored frames with the medieval styled windows. We hope you'll look into downloading these ornate windows for your game!

Available for download at Blogspot!


 
---
6. Medieval Set by Kresten22
By my troth! Kresten has converted a treasure trove of meshes and content from The Sims 2 for purpose in The Sims 4! These pieces are well textured and detailed, including all the typical household needs for a simple medieval family. In fact, there are two separate sets that include cauldrons, logs, functional fireplaces, tapestries, mugs, various clutter for a feast, and more!

Available for download at SimsFans.forumfree.it!


  
---
7. Candle & Candle Holders by PlasticBox
Let us take this moment to shine the light to these simple yet elegant candles from PlasticBox. Each one acts as a functional light that can be turned on and off, and to make these even more unique, the candle holders have a slot on top of them to place the candles in. There are many different metallic colors and waxes ideal for customization for your wall decorating, table cluttering, and mood lighting.

Available for download at ModTheSims!

Single Candle & Candle Holders



---
8. Tub, Toilet, & Hand-Washing Bowl by Sophia
Sophia has taken advantage of the woodworking skill in The Sims 4 and not only unlocked the handmade toilet  and bathtub that your Sims can create, but altered them just slightly to create a more medieval themed look.Also, now your Sims' mixing bowl has a use other than being a mixing bowl! Place it on a table for your Sims to be able to wash their hands for an authentic old time feel in your household.

Available for download at Weebly!

Antique Tub, Toilet, & Hand-Washing Bowl



---
9. Dragon Valley Dining Set by StickySims
Ah, who could forget the rolling hills of Dragon Valley in The Sims 3? Perhaps one of the most unique store sets available, the celtic theme also plays well with a Medieval world in The Sims 4. This set has put together three gorgeous tapestries, three colors of the long dining table, and equally matching chairs to bring any noble family together for a grand feast.

Available fordownload at Tumblr!

TS3 Store Dragon Valley Dining for TS4



---
10. Medieval Custom Downloads by Simulacra
Sometimes it's just not enough to change the environment and clothes that our Sims live in. Simulacra has converted a large amount of unique content from various sources and given full credit in their blog. Changing the means of your Sims' way of medieval life by changing the default mop into a broom for those pesky puddles, gave children a quill and tome instead to do their homework in, an old fashioned brewer for your Sim's early morning coffee, turning a barrel into a shower, replacing the default insect terrariums into large bug filled bottles, and so much more! And if your Sims are curious about their fates, consult the Crystal Ball or Skull O' Yorick for a similar effect as the Fortune Cube!

Available for download at Blogspot!

Terrarium Default Replacement | Default Trashbag Replacement | Barrel Shower | Crystal Ball | Skull O' Yorick | Peasant Bath | Coffee Maker and Mug Default Replacement | Homework Default Replacement | Medieval Toilet | Door | Mop Default Replacement


                 
---
So whether your Sims is a lord or lady, peasant or knight, jester or stable master, never fret because your household can have everything they need to rise to the challenge and leave their legacy behind!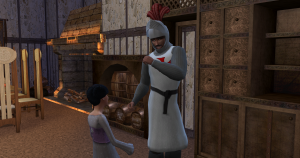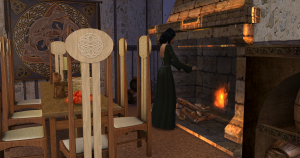 All models can be found on The Sims 4 Gallery!
– King Family by gg_sims3
Do you have an idea for a Custom Content Showcase, questions, and/or Sims to volunteer?
Contact me: [email protected]