With the release of today's Sims 4 Game Patch, traces of Vampires and Game Pack 4 have been found in the game files. Back in September of this year, Sims 4 Soundtrack composer Ilan Eshkeri, released a video of the team creating "Spooky Music".
As I combed through the game files to check for new information and images, I ran across an icon of (what appears to be) Vampire babies complete with a widows peak. Additionally, The Sims team has already added in a placeholder box art for Game Pack 4, which means it's likely we'll see GP4 in the next quarter. There's also this.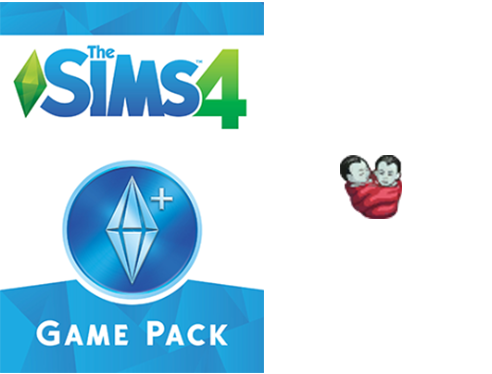 UPDATE: Community modder Zerbu Tabek has found additional code within the game related to Vampire interactions and details. The information can be found in the "sims.occult.occult_tracker" tuning resource. The best bits listed below.
Vampires may have "alternative forms" that work in a similar way to alien disguises.

There may be a "perks" system, similar to the Retail, Club and Restaurant Perks from various other packs. As a matter of fact, the code suggests there may actually be two simultaneous perk systems.

Vampires may have a "talent" of some kind. This could just be a technical way of referring to basic aspects of vampirism, such as sucking plasma.

The Occult Powers Panel may be opened from the Needs Panel.

Having a Vampire and non-Vampire have a baby may create a Sim who is Part Vampire, similar to how there are Part Aliens.

There may be a system for ranking up based on experience. This appear not to be a skill, but a new type of statistic that hasn't been used yet.

There may be an "Occult Powers Panel" which can be used to purchase both "primary" and "secondary" powers using the perk points.