The first thing you probably want to do when you get The Sims 4 Seasons, is experience some weather that isn't Hot and Sunny. But before you start making snow angels and play around in mud puddles, you should familiarize yourself with the new game options.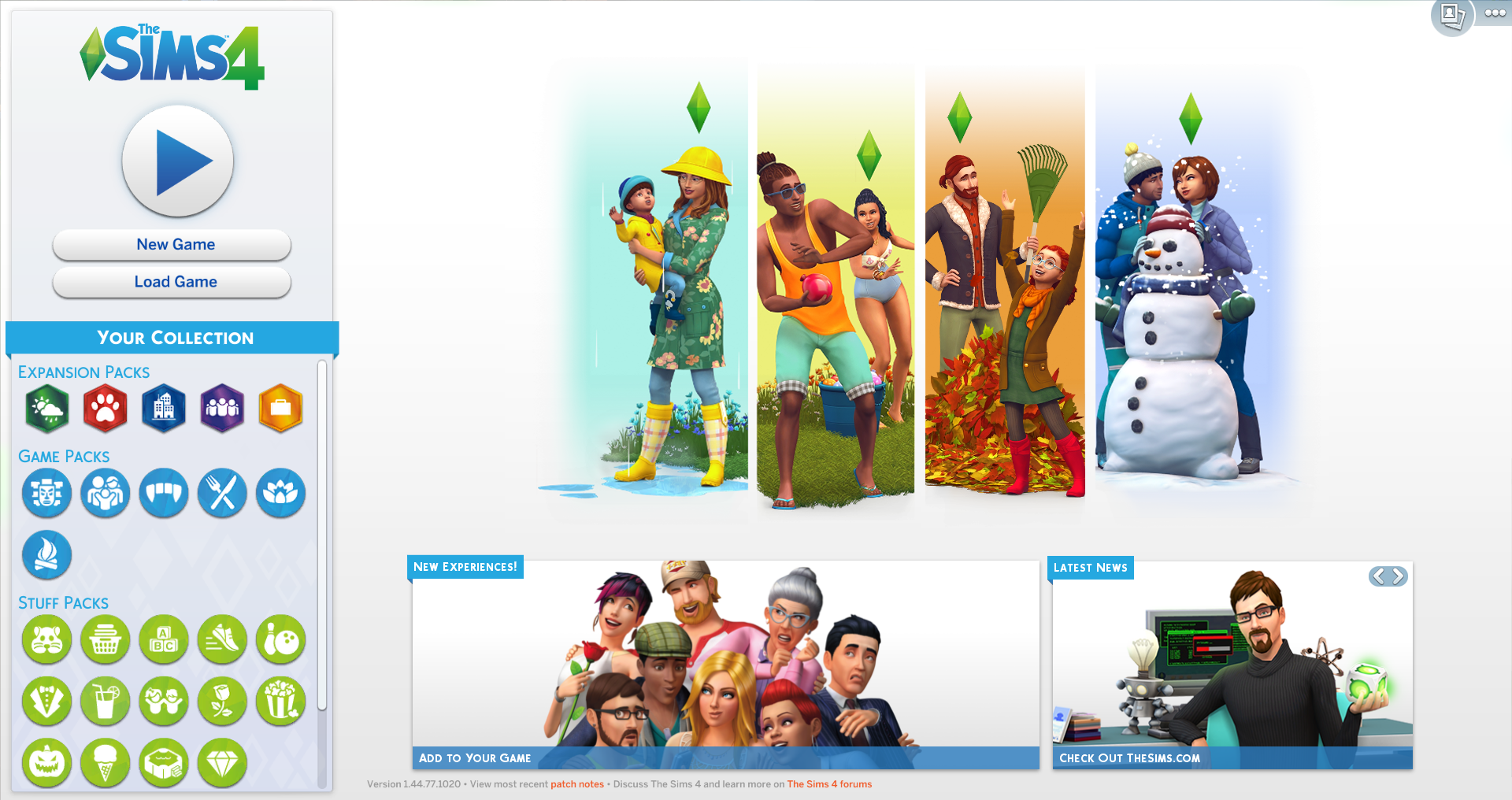 When you boot up the game for the first time, you can do one of three things; start a new game in Create-a-Sim, Load a Save, or Press Play and continue where you left off. All three of these options will lead you directly into the Seasonal Selector screen, with the exception of "New Game" that requires you to create a family first.
Spring – Spring is a great time to plant your garden to take advantage of spring showers, but watch out for those mud puddles!

Summer – Temperatures are climbing, so beat the heat with water balloons and sprinklers. Watch out for the thunderstorms, they can be electrifying!

Fall – Gather your garden produce to make a Harvestfest feast to celebrate with friends and family. Enjoy the changing leaves (and leaf piles) before things get chilly.

Winter – When you're not bundled up indoors, have some fun in the snow or on the ice. Don't forget to decorate for Winterfest and plan your New Year's resolutions!
Whichever way to choose to start the game, you will eventually be met with the Seasonal Selector screen. You can hover over each of the Seasons to view more information about them, and once you decide which season you want to start with, click the corresponding plumbob, press ok, and continue into the game.
❗ You will only be required to select a season once per game save. Seasons rotate with the following schedule: Spring, Summer, Fall, and Winter.

❗ You're not able to alter the starting season once you've selected it. The only way to change the weather or the current season is to use the Weather Control Device in buy mode. High level Handiness Skill and upgrades are required.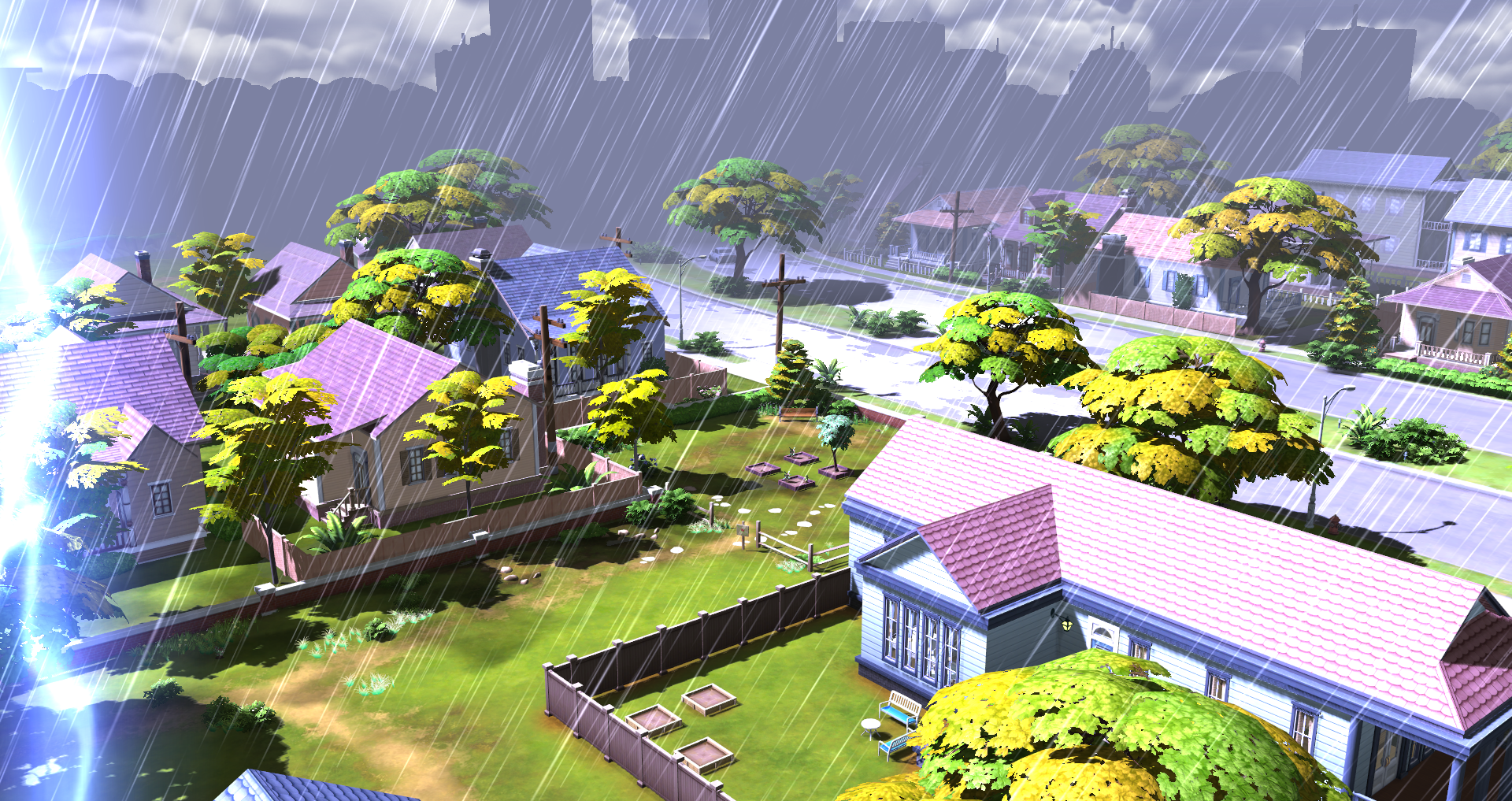 Once you jump into the game, the weather will represent the season you selected. Now is the best time to familiarize yourself with the Seasonal Game Options available.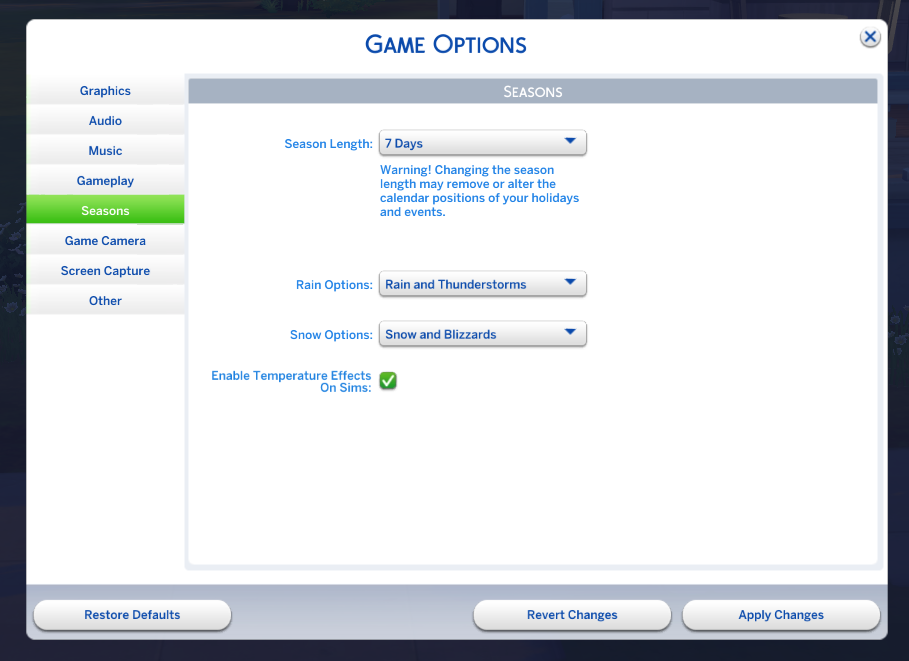 Seasonal Options can be access by clicking the options menu, and selecting the "Seasons" tab. From there you can change 4 options for the game. These changes are universal, so you won't be able to change them for just one season or one game save.
❗ These game options are effective immediately upon changing them. Remember that these game options are universal. Altering the settings affects every world.

• Season Length – This allows you to change how long each of the seasons will last. Available options are: 7, 14, or 28 Days. This change applies universally for all seasons. Adjusting the season length will also alter or remove calendar positions, along with any events or holidays you create. The 4 pre-made Holidays will adjust on their own, but other holidays and events you have planned will be moved around or deleted.


• Rain Options – This allows you to choose one of three options: Rain & Thunderstorms, Rain, or None. Turning this option off will eliminate rain from the game all together.


• Snow Options – This allows you to choose one of three options: Snow & Blizzards, Snow, or None. Turning this option off will eliminate snow from the game all together.


• Temperature Effects – This options allows you to enable or disable temperature effects on your Sims. Weather to play a role in how Sims feel and react to weather. Sims will receive buffs and emotional reactions to weather. If you want your Sims to be able to run around in the nude during freezing weather, disabling will allow you to do that without  repercussions.
Now that you have all this out of the way, you can check the current season, temperature, and forecast at any time. The Calendar Feature and the new weather UI provide the current weather forecast. You can easily hover over the time stamp at the bottom of the screen to check information on the fly. The Calendar Feature also provides a 7 day forecast as well.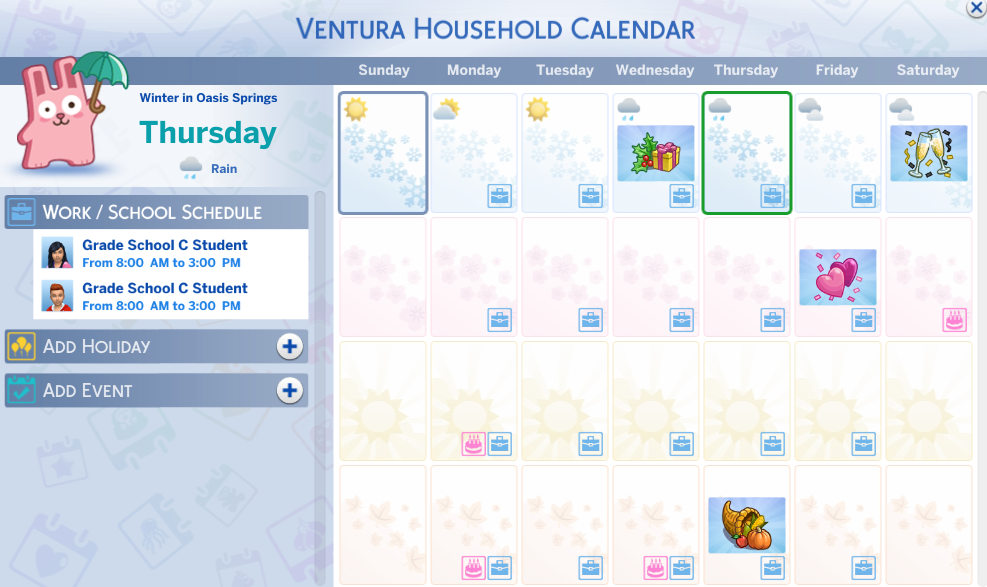 The Calendar is located on the bottom left side of the UI right next to the phone. Once this opens you can check up to 7 days of the forecast on the top left side of the panel. Keep in mind that the forecast and weather can end up completely different. Things like playing with the weather machine, and the game's own mechanics affect the weather.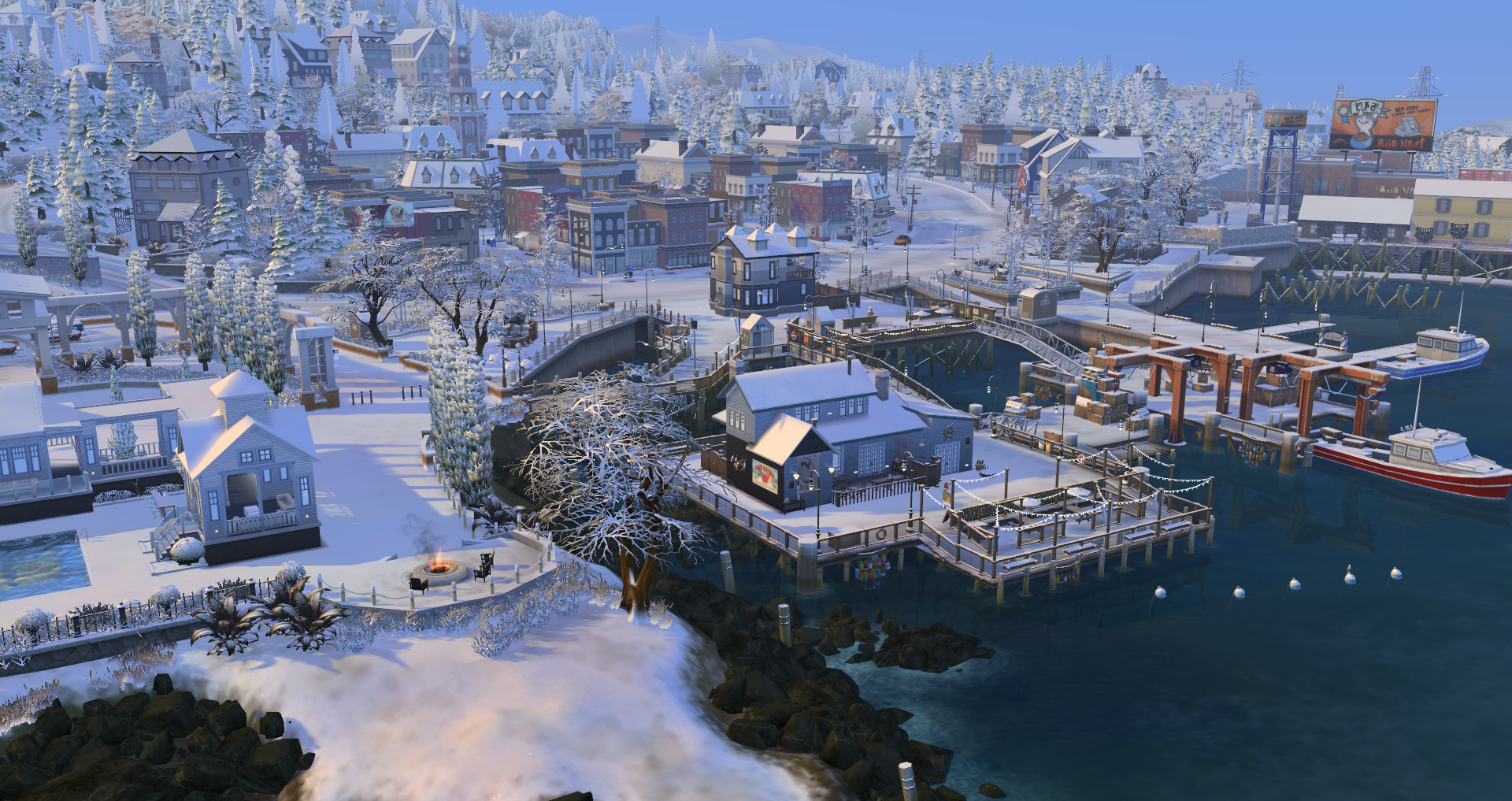 Each world will experience a different weather pattern depending on their "climate". Places like Selvadorada (tropical) and Oasis Springs (desert) will not see snow in the winter. To the contrary, Willow Creek and Granite Falls will definitely experience snow.
Base Game Worlds

Willow Creek

(Snow and Rain)

Oasis Springs (Rain Only)
Newcrest (Snow and Rain)

Expansion/Game Pack Worlds

Magnolia Promenade (Rain and Snow)
Granite Falls (Rain and Snow)
Windenburg (Rain and Snow)
San Myshuno (Rain and Snow)
Forgotten Hollow (Rain and Snow)
Brindleton Bay (Rain and Snow)
Selvadorada (Rain Only)

❗ Keep in mind that it's very rare to see snow in Selvadorada and Oasis Springs. The game has set a "weight" of 0 for snow in these worlds during winter. This means it is unlikely and rare to see snow there, but not 100% impossible.

Each world also has their own forecast chances. There are three parts to a Season: Early, Mid, and Late. Each time frame has a chance of producing various types of weather.

Cold, Hot, Cool, Warm, Partly Cloudy, Cloudy, Sunny, Sun Snow, Rain, Blizzards, Snow, Windy, Mysterious, and Random weather can occur. It all depends on the world and season.
Last but not least, prepare your Sims for outdoor weather. The latest Sims 4 Game Patch added new "Hot Weather" and "Cold Weather" outfit categories in Create-a-Sim. These are useful if you intend to leave Temperature Effects enabled for your Sims.
❗ Any outfits assigned to Sims in these categories will shield them from the elements. If you want your Sims to stay warm wearing bikinis during winter, then so be it.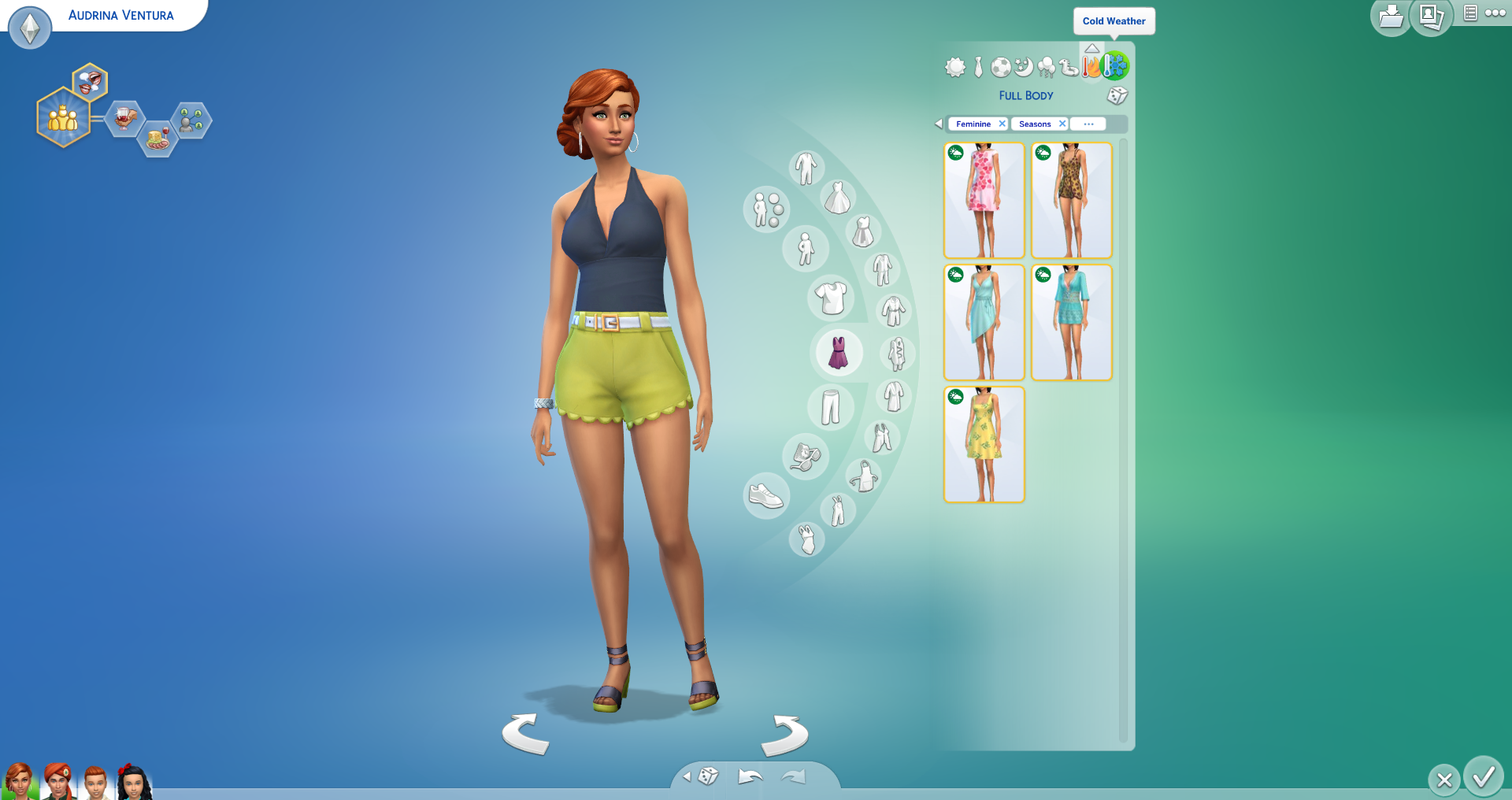 Take some time to select outfits in these categories for your Sims. The game automatically generates default outfits for them, but you'll probably want to switch it up a bit.
For more information on the game, take a look at our Sims 4 Seasons Game Guide! We will be updating the guide continuously, so keep checking back for more info!