Ah, a new year has begun. Much like an empty lot in The Sims, we can make these next months into whatever we want them to be, it's only a matter of raising a few walls and placing floors, wallpapers, doors and windows. Wait, you're telling me you're not familiar with building in the game? Why not make a new year resolution to enjoy more of one of the most fun aspects of The Sims?
And this is what we'll be talking about today: Having fun while building. I have gathered a few very general tips to enhance your building experience in The Sims 4, making sure that the time you spend in Build/Buy result in something you like, but also in something that you enjoyed making. And who knows, maybe one year from now building will even be your favorite thing to do in the game? Time will tell.
So I will try to build a house while I write down these ideas I've been compiling and I'll show you a bit of the thought process behind what I build. Please keep in mind I am not the best builder out there, I consider myself to be pretty average. But the amount of fun I have while building? That's what really matters.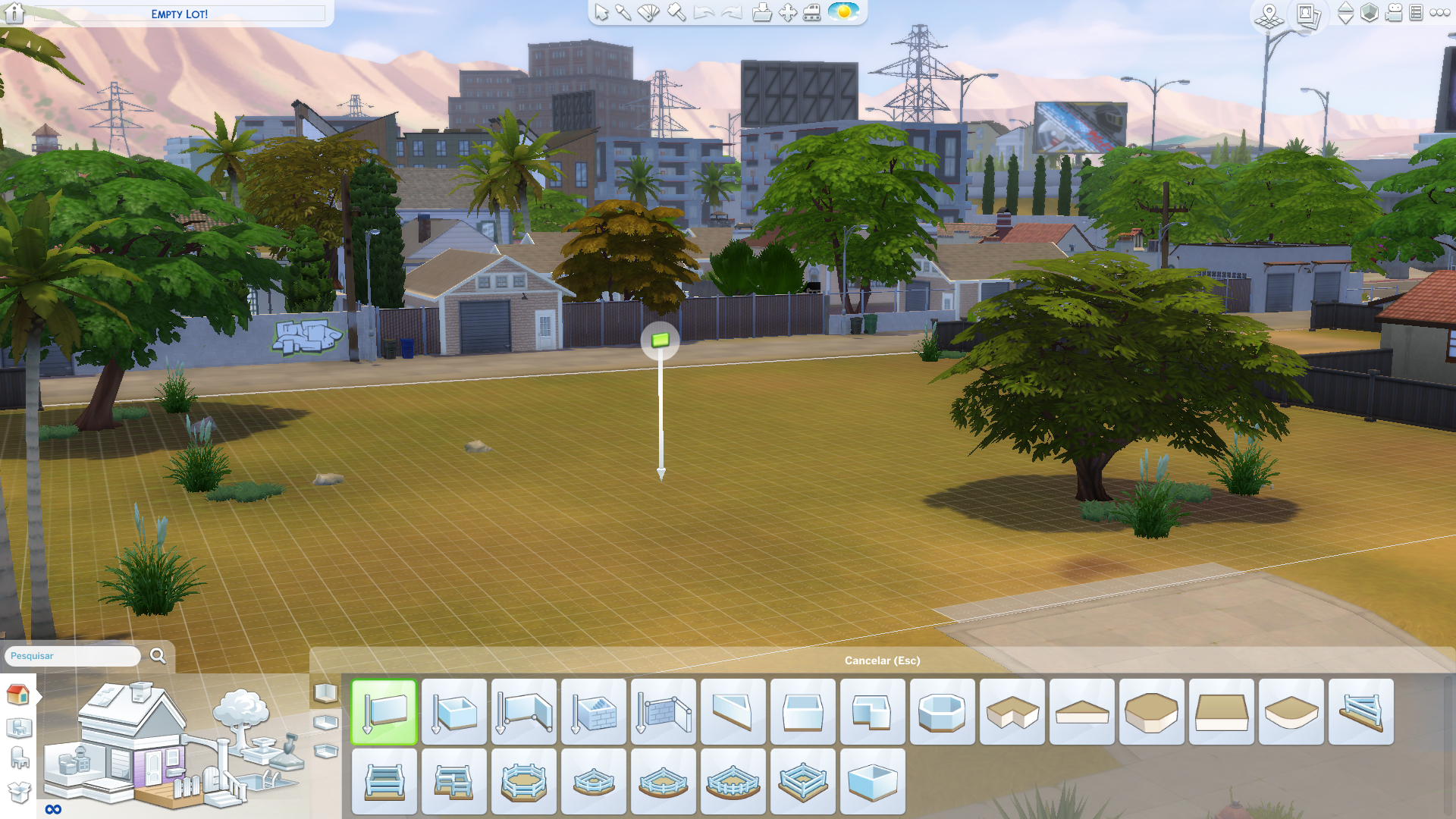 Take a good look around
If you don't have a very specific idea of what you're going to build (which tends to be my case), try to get a feel of what is around the lot. Maybe you want to build something that really stands out in the neighborhood? Or maybe you want to give that block just what you feel it's missing? The shape of the lot can also give you an idea on how to use that area.
For this house in Del Sol Valley, I thought I'd build around the plants and rocks already on the ground instead of knocking them down – not sure why, just thought it would be more fun this way. So I decided to go with an L shaped build.
Go crazy with a backstory
Anything will be easier for you to make if you know why you're making it. This life lesson can also be applied to The Sims, and a little backstory could be key when it comes to deciding from decoration details to how many bedrooms it should have.
I know Mirage Park is meant to be seen as a starter neighborhood, but I had another idea. That's where my sims who started out in San Myshuno moved to when they started making a little more money and, more importantly, needed more space for children. The spacious lots and the cute little park with a playground and a pic nic area make this neighborhood a big step up if you were living in a studio apartment with a toddler.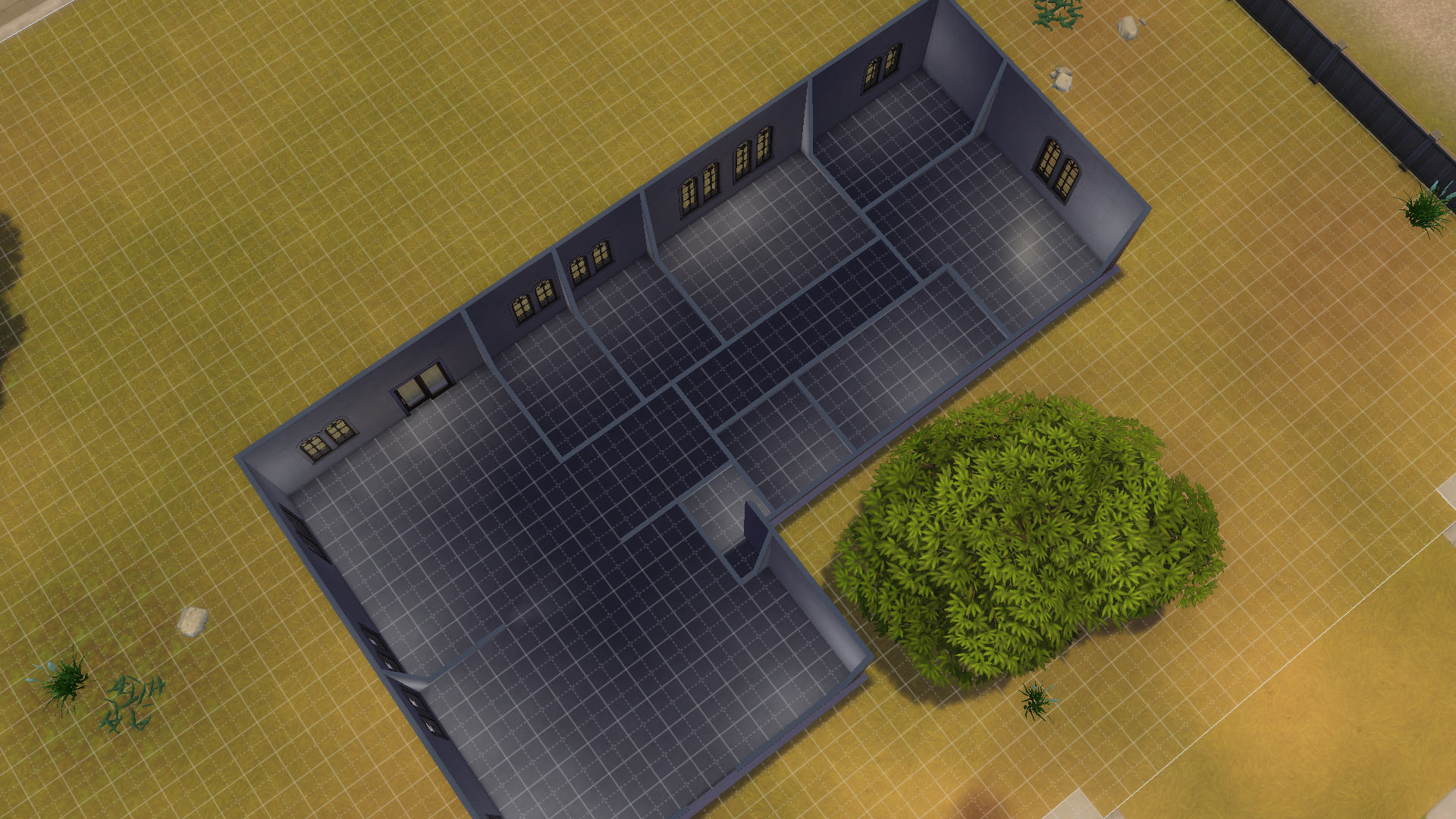 Choose a practical floor plan
While you're not an advanced builder yet, and specially if you're going to use your build in Live Mode, don't be afraid to go for the usual rectangle rooms, maybe with a few twists. If you've been playing for a while now, you pretty much know what your sims will need, so just try to think of ways to optimize their time while they're living they're day to day lives, like having an extra bathroom near the front door (so they can avoid accidents when coming home from a party), but far away from the table (so hopefully they won't do their dishes there)(I said hopefully).
For this imaginary, hypothetical Sims family, I thought of giving them a lot of room to be together in the common areas (living room, kitchen, backyard) so their small bedrooms are mostly just for sleeping. I attached a bathroom to every bedroom and, just like I usually do, I made a little room for laundry. 
Remember: Balance is key
If there's one goal I think you should have while building, that would be balance. And I don't mean feng shui or anything like that, I'm just saying builds are usually aesthetically more pleasing when their elements are distributed in a more even way. Having the grid on while building makes this easier, you just count the squares and do the little math of putting a certain number of things within a certain distance from one to another.
For this house we're building, I put the front door on the very center of that wall, with one window on each of its sides. The way I laid out the other windows on the other wall also follow a similar pattern. Now I didn't have enough room to have all windows neatly apart in one of the front walls, but I still did my best to make sure they had some sort of balance. And I think that worked!
Ok, now we roughly already have a house! And it was a fun one to make cause not only it's very satisfying to see those rectangles making sense together, it's also cool to think of the possibilities it has for Live Mode. I also like how, even so simple, it doesn't stand out in the neighborhood as an architectural aberration. But now let's move on to a few more general (and quite frankly, more fun) things.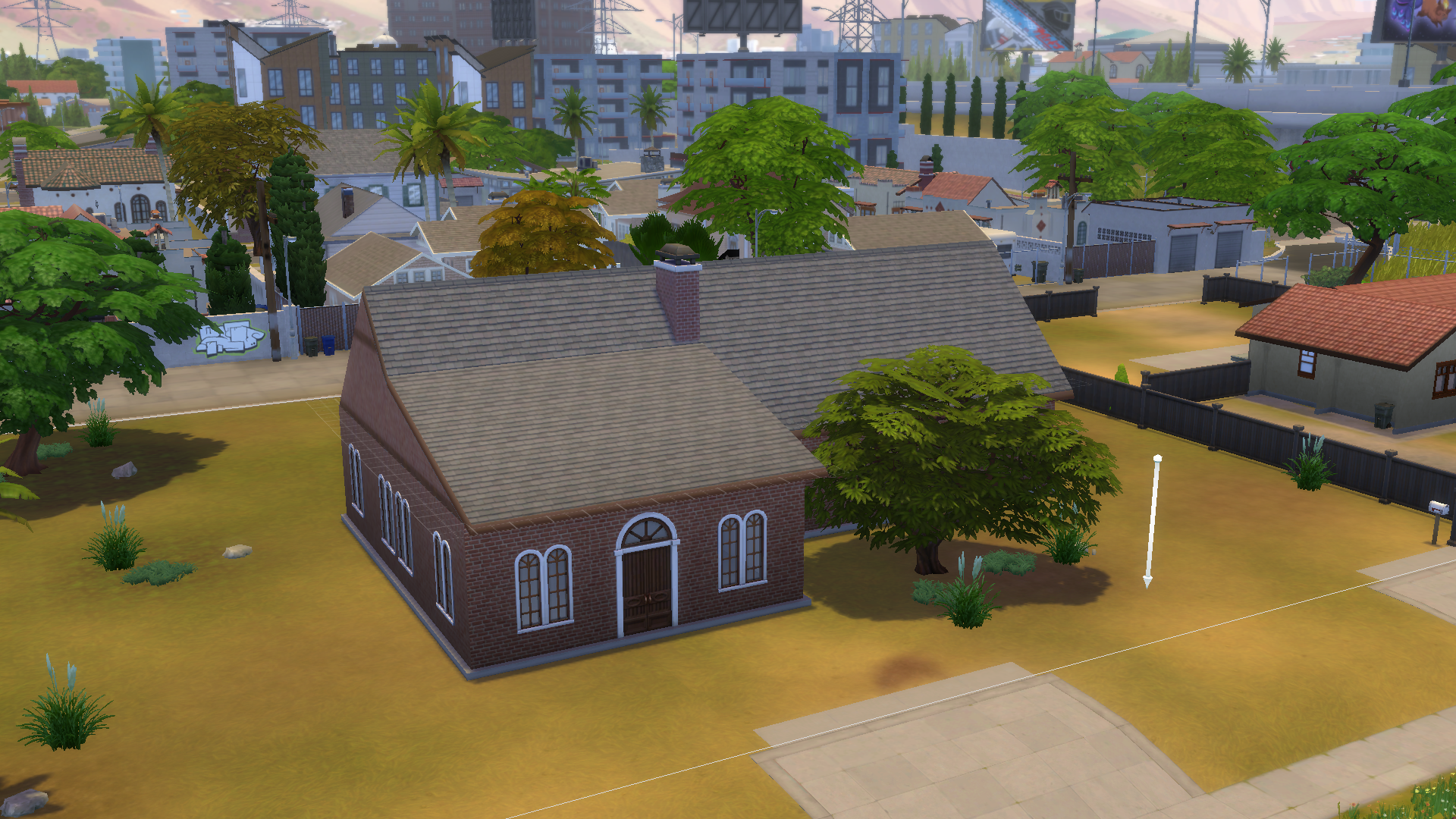 Don't get caught up in style
Although it can be tempting (as well as quite an interesting challenge) to try and recreate a specific style, it's even more entertaining if you look at the items we have in the game and see how you feel about matching different things, maybe ones you never thought of using before. That's even better if you realize how diverse colors and materials are in the Build/Buy catalogue, that way you can really use the right items to come up with your own aesthetics.
Since this is supposed to be a family house, I think coziness and warmth are important to be taken into consideration. That's why I'm going with earthy tones, lots of wood and exposed bricks. The details on white, though very simple, make the whole outside of the house kind of pop without trying too hard. Do you agree?
Freedom is better with boundaries
Yes, you read it right: When doing creative work, it's always best to set specific boundaries and then explore freely within them. This way, you'll be able to combine things more boldly, because the whole build will be have a more cohesive feel to it.
As I said, thinking of earthy tones and having wood as a main material, I can make choices that will look good together. That way, since I can't have a kiddie pool in wood (for obvious reasons), then I'll choose a color that goes best with the rest of the build, just as not having a blue plastic pic nic table, but instead having a lighter shade of wood, helps tying the backyard together.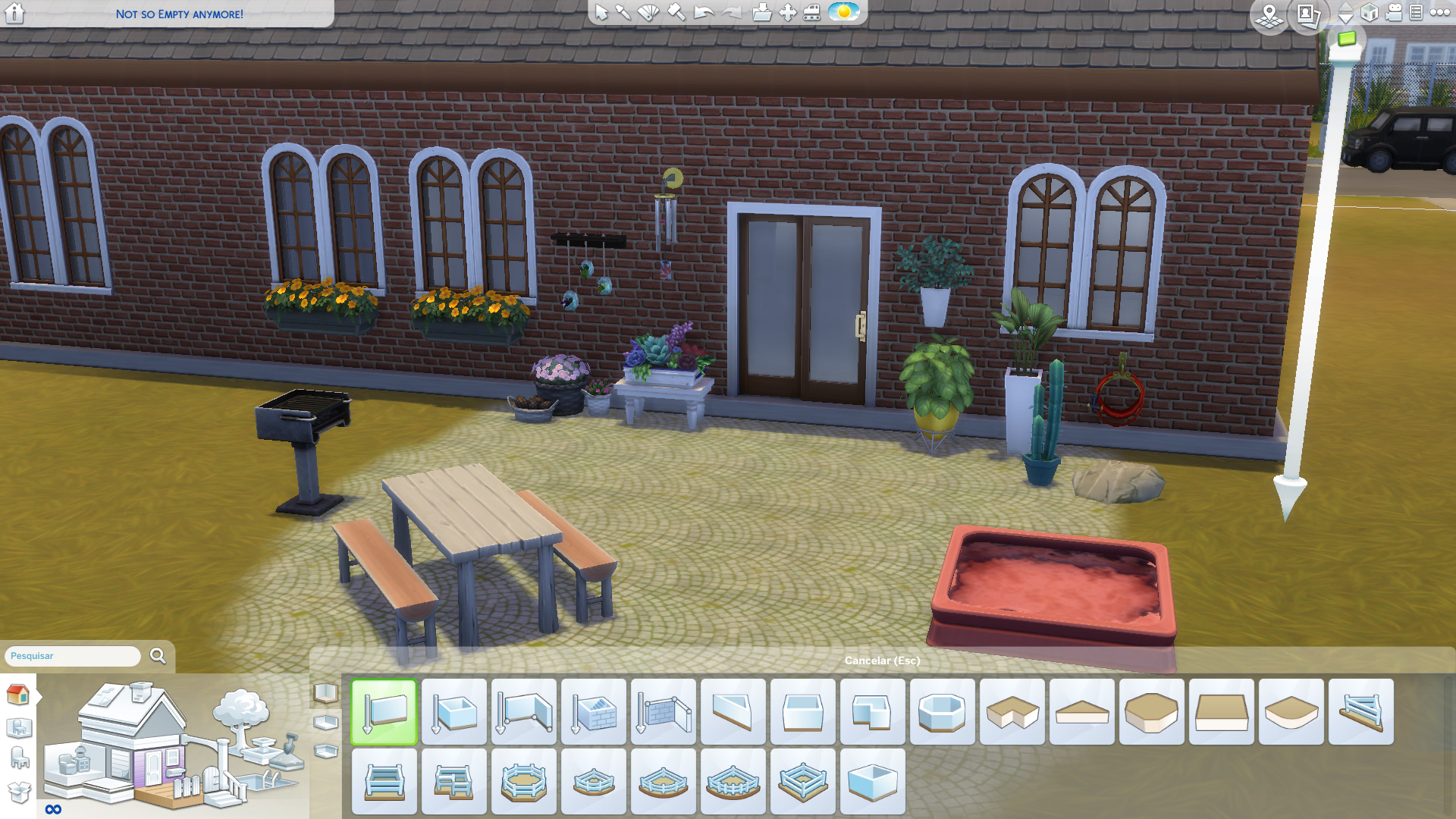 Let details inspire you
I really like how organically some options appear right in front of you when you're building, all you have to do is pay attention to what's right in front of you. Sometimes you have to see what's around the lot to decide where to place the windows (a room with a view is everything), while at other times you like the color scheme you chose for the kitchen and repeat that in the bathroom.
Remember how I mentioned the white frames on windows and doors were making the build pop? So I thought, why not be inspired by that and try to decorate the interior of the house using that same idea? You'll notice pretty much everything in this room is made of colors inside of other colors. I thought this sense of structure would convey a feeling of organization without being boring.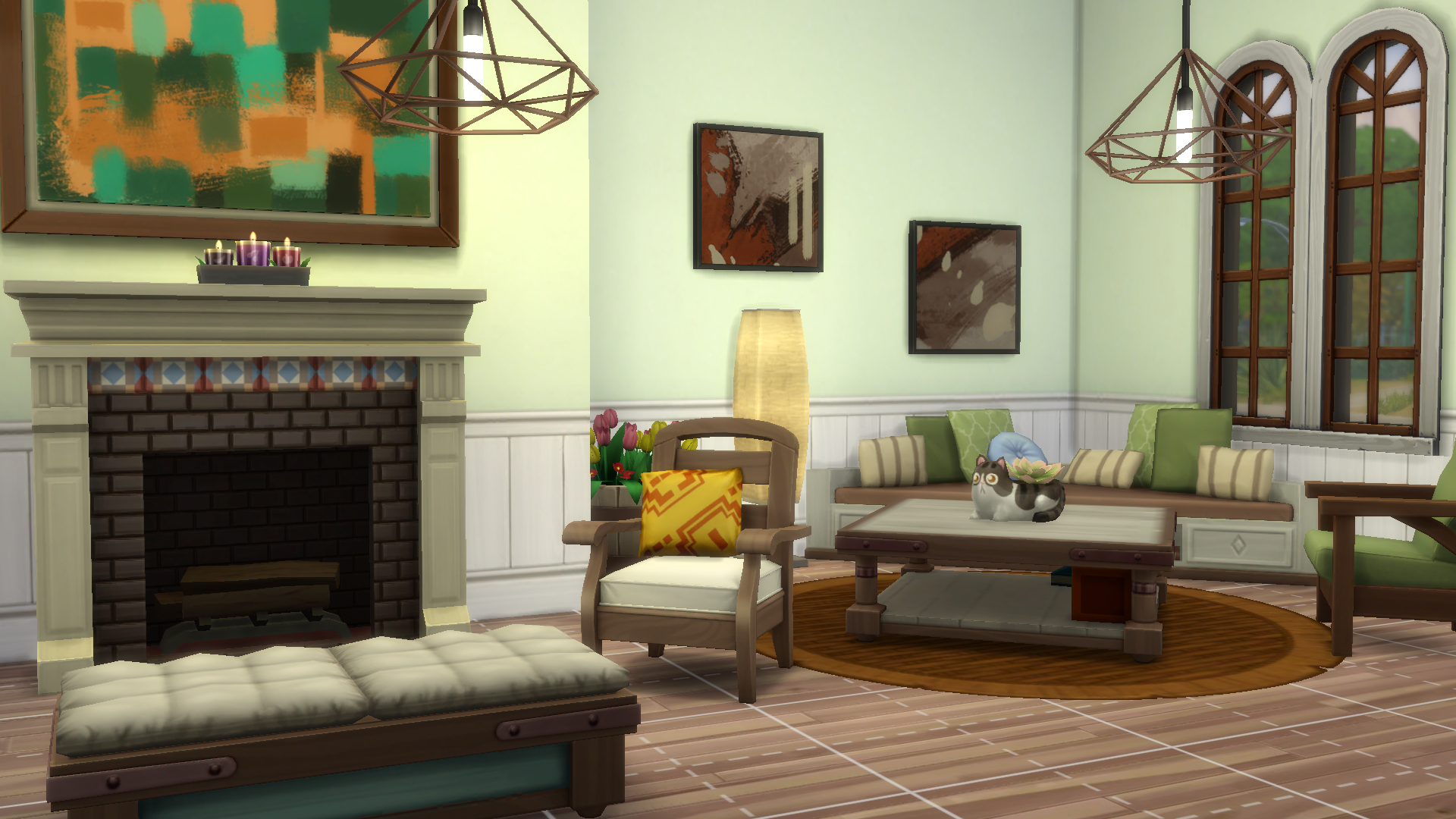 Build like no one is watching
Last but not least, my advice is for you to feel free to do whatever you like with your builds. They never have to look good to anyone but you. Also, it doesn't matter if what you do is better or worse what others are doing, all that matters is that you'll find satisfaction during all parts of the process while building, and then enjoying it on Live Mode afterwards.
You don't have to show it to anyone, but you can if you'd like by sharing it with others. It's always fun to browse the gallery and notice what people have been making, the same way it's really nice to stumble upon new ideas for builds on Twitter and Tumblr. It's not a matter of having your work evaluated by a fellow simmer, but rather sharing ideas so that everyone can become better builders.
So these are a few simple, general tips for you to start building more in 2019. We're always sharing new ideas and very specific guides on SimsVIP, like the one about terrain tools, glass roofs or even creating fantasy builds (thanks, Hayley, for these!). If I were you though, I'd start small making something as simple as a starter home for a single sim, just so you'll become more and more familiar with the tools. With more features being released every now and then, building in The Sims 4 is a very entertaining experience no simmer should miss out on. What about this for a new year resolution?