Let's be frank, the team behind The Sims 4 Parenthood Game Pack made the skateboards wall decor set with the very specific purpose of decoratig teenage rooms. But this is The Sims, so things can be much more than their purpose, specially when they help you to tell a story.
I admit to have used those a few times in bedrooms, but their designs are way too cool to be confined to only one use. So I gathered a few ideas to help you let your creativity flow in your next builds.
Have you used them in different scenarios? Do these screenshots inspire you to build something else entirely? Let me know in the comments section below!
Arcade/Gaming Room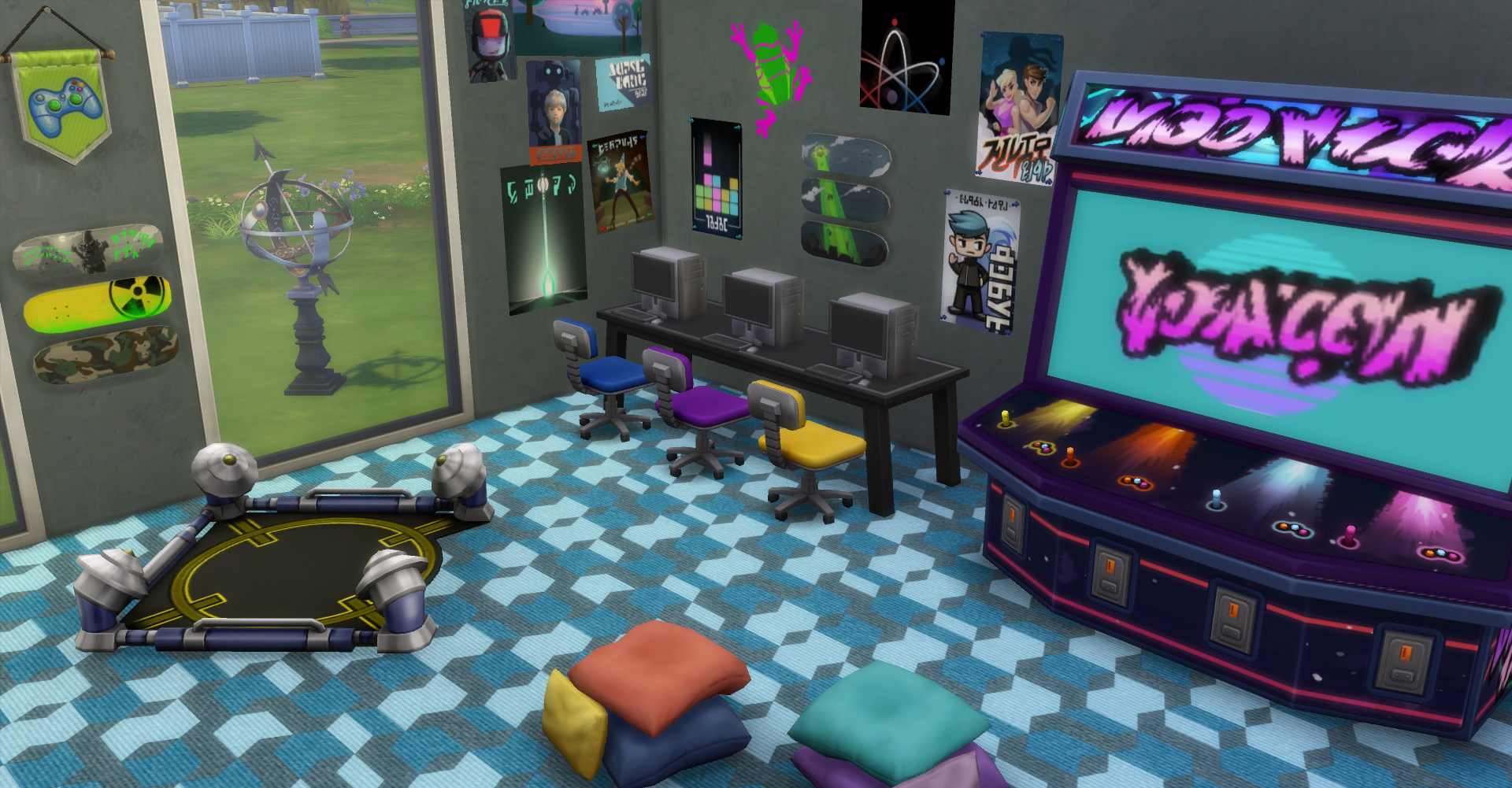 Those two swatches go great with sci-fi themed rooms, so I figured they'd be good in an arcade-like type of build, or even in a gaming room. Another cool thing about these two swatches is how their colors match, so you could easily place them side by side and they'd go great together.
Cute Coffee Shop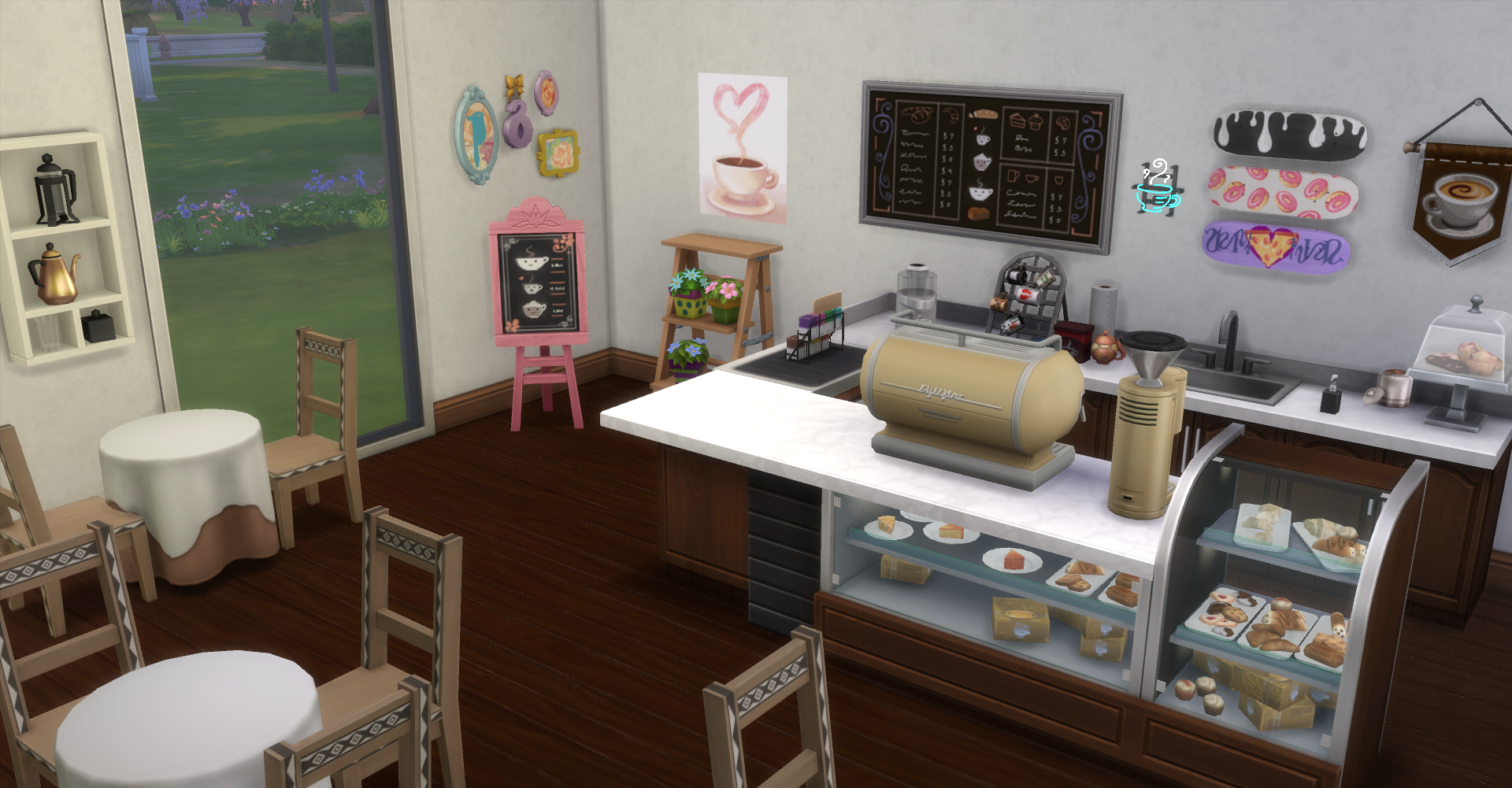 That donuts print on the board really inspired me to put it in a cute café. It really brought a more youthful atmosphere to the place, and allowed me to place other shades of purple and pink around the room more naturally.
Funky Seafood Restaurant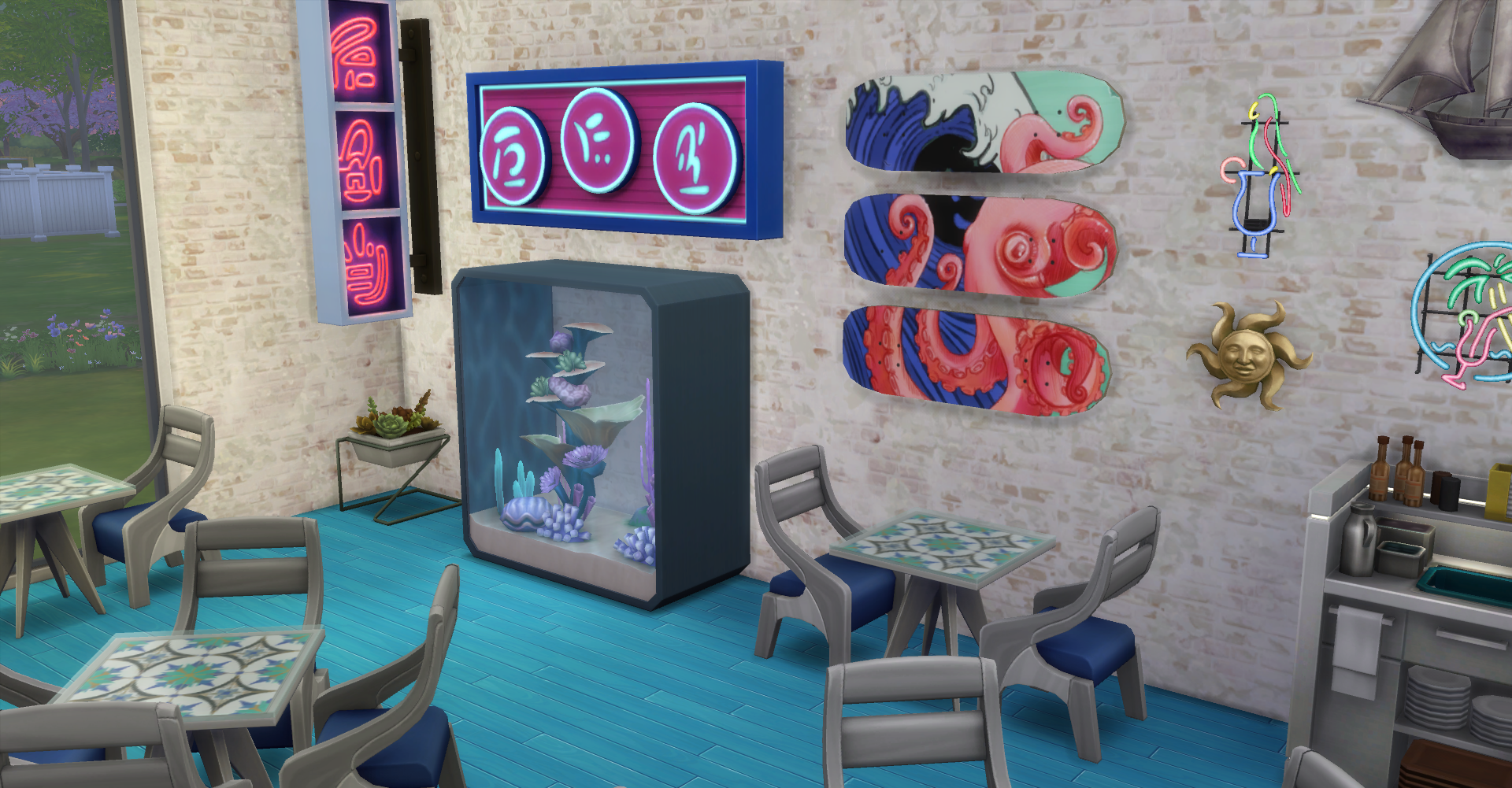 I did scale up the boards this time, that octopus deserved to be seen in all its glory! So having a few itens from City Living beside it really made the place alive, it looks to me like somewhere where I'd like to take my friends for happy hour, I can almost smell the fish and chips.
A generic, yet fun bar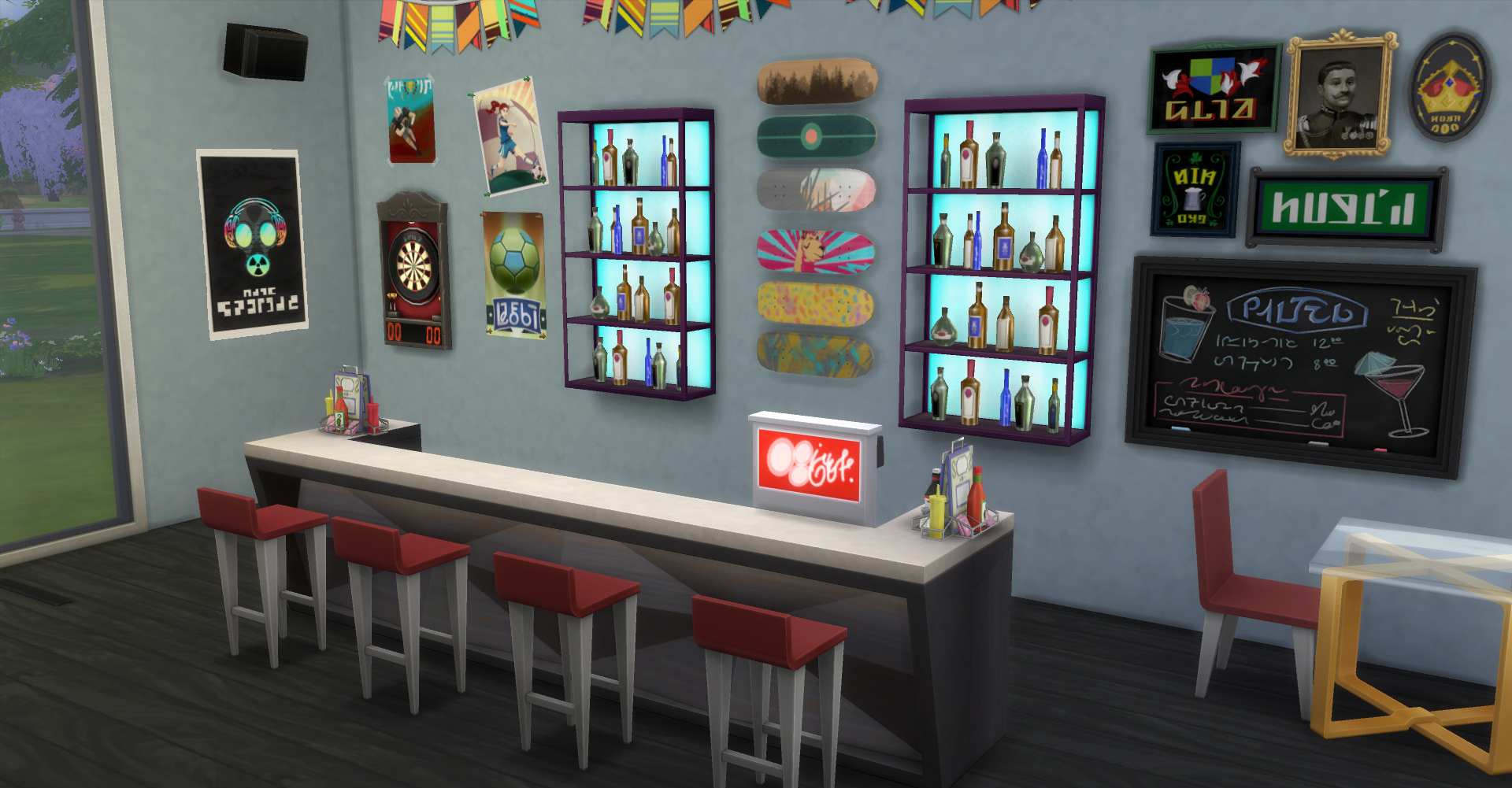 Since I mentioned happy hour, why not have those boards up in a bar? It could be sports themed or just have fun furniture and decor like that, as long as costumers feel relaxed in a welcoming environment. Those boards are really good at that.
Artsy Recycled Room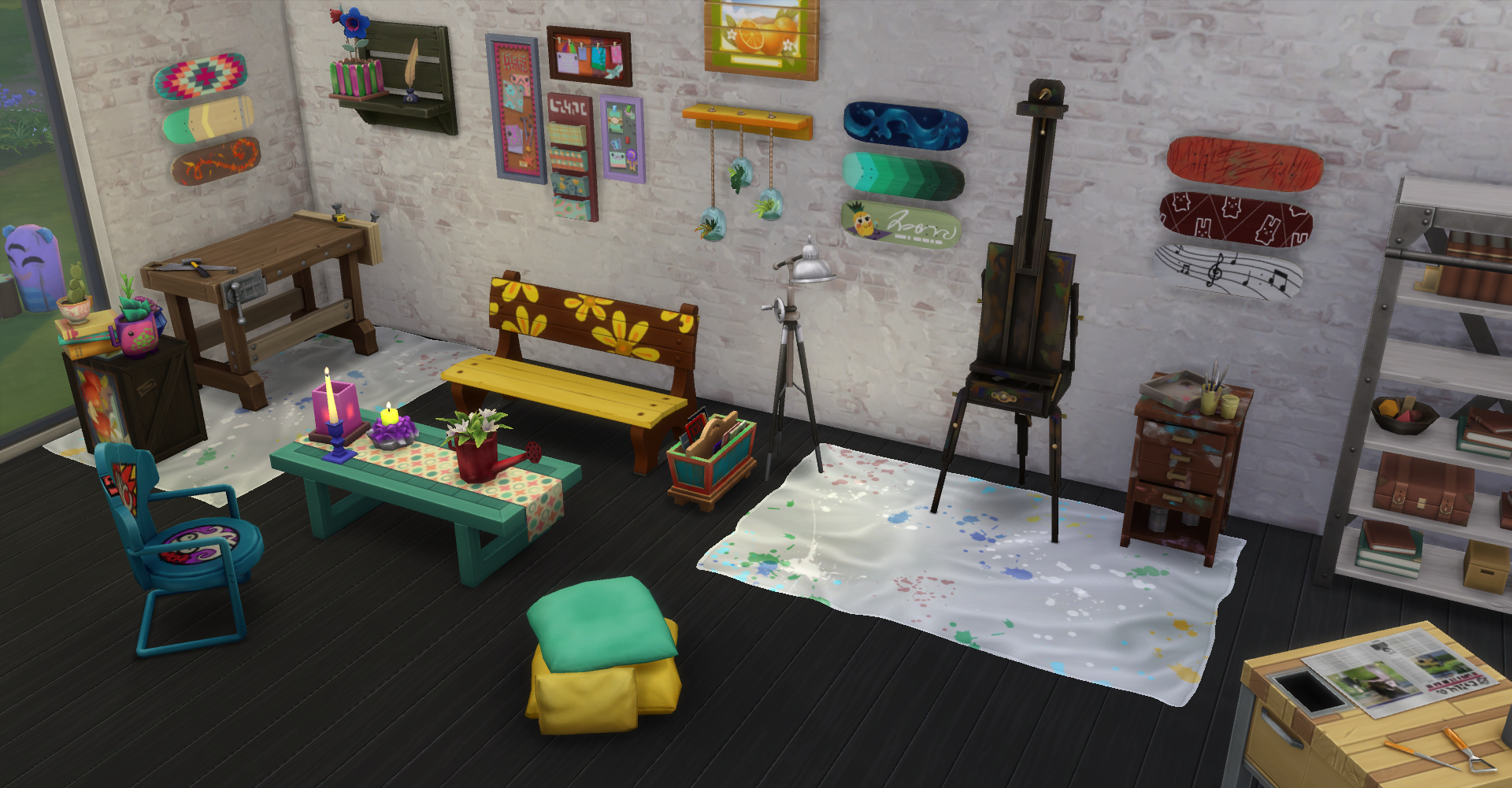 And last but not least, if you have artsy sims maybe you should give them a space where they could have renovated and repurposed objects and furniture – including skateboards! I admit this one's my favorite of all five, I can see how my sims would be inspired to work in a room like this (and so would I!).
PS: As you guys can see, I'm still placing pillows everywhere. I might need an intervention.